Dublin Spire becomes lightsaber for Star Wars premiere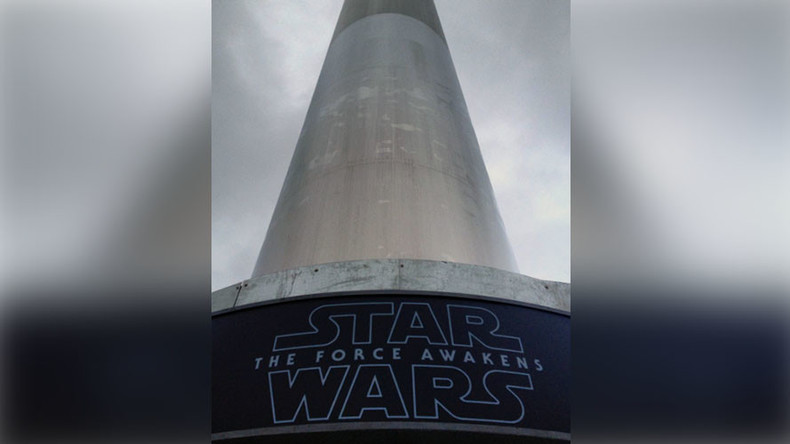 Either there's a Jedi buried under Dublin city center who's trying to get out, or the world's tallest sculpture has been turned into a lightsaber. Just in time for this week's Star Wars VII premiere.
Fans expect the much-maligned 398-foot Dublin Spire, which now sports a handle-like base that mimics the iconic Jedi weapon of choice, to be lit up in all its lightsaber glory as the movie premieres.
The spire was installed in 2002 on O'Connell Street, the Irish capital's main drag which, like Hollywood in California, features an unusual mix of movie premieres and urban blight.
E essa noite o Spire em Dublin virou um sabre de luz gigante! *-*#Irlanda #Spire #StarWars #Dublin #EDublinVideo: @well_wide via Instagram

Posted by E-Dublin on Tuesday, 15 December 2015
Dubliners, who previously coined it "The Spire in the Mire", "The Stiletto in the Ghetto", and "The Stiffy by the Liffey", lit up social media once the weapon was unsheathed.
In honor of the highly anticipated Irish premiere of the Star Wars sequel The Force Awakens Wednesday night, fans are expecting the Spire to be lit up in all its lightsaber glory.
A number of commuters noticed the temporary addition to the Irish monument this morning and took to social media to share their enthusiasm.
READ MORE: Google use the 'Force' to block 'Star Wars' spoilers

The world premiere for the latest installment in the franchise took place on Monday night in Hollywood, California.
Reactions from critics so far has been high praise, suggesting the US$4 billion investment was worth every penny.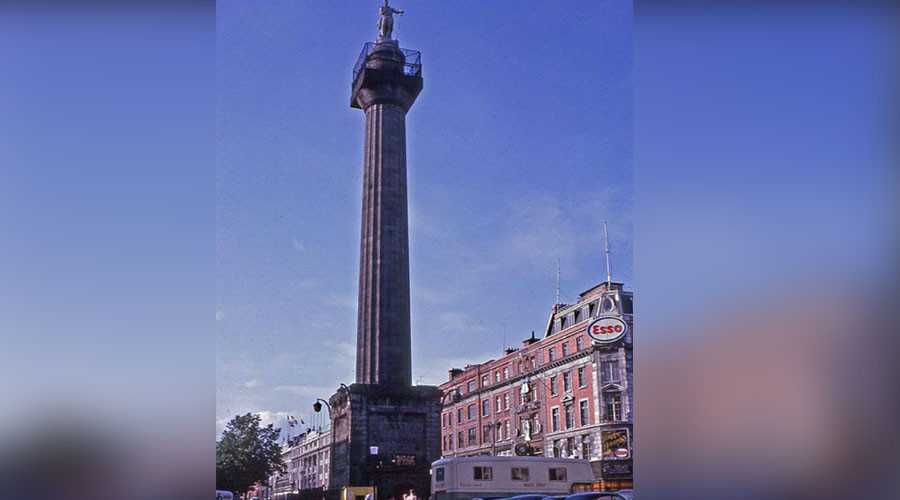 The Dublin Spire replaced a soaring colonial statue named after war criminal Horatio Nelson, the Darth Vader of his time, twice targeted for destruction.
In 1955, nine university students broke inside the base and tried to melt the statue with the old fashioned lightsabers known as flame throwers.
In 1966, it was partially blown up by former IRA members including a qualified barrister. The Irish Army's attempt to destroy the remains ended up causing more damage than the original blast.
The lightsaber monument isn't the only affiliation Ireland has with the movie. Some scenes for the film were shot on Skellig Michael, a world heritage site off the south coast of the country.
Actor Mark Hamill, who played Luke Skywalker in the early Star Wars movies, filmed some scenes on the ancient ground, calling it emotional.
"It reminded me of when I was in Tunisia on the salt flats. If you could get into your own mind and shut out the crew and look at the horizon, you really felt like you were in a galaxy far, far away.
I had the same wave of emotion happen to me when I was on Skellig Michael in Ireland. I wasn't anticipating it", he told Empire magazine.