'We want them to do more' – US defense secretary asks Turkey to seal Syria border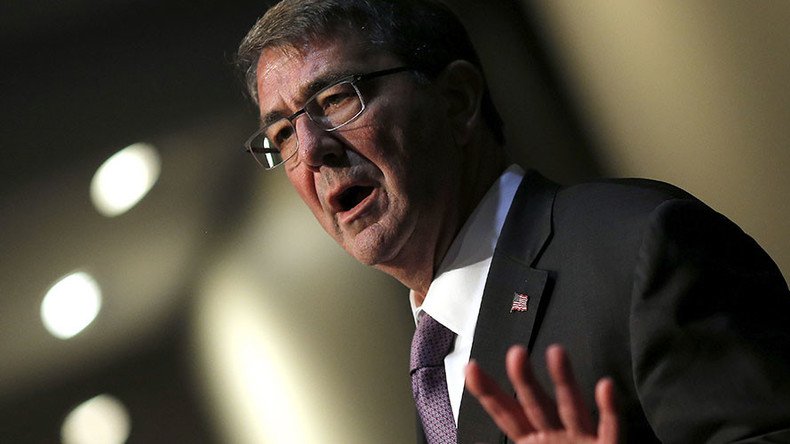 Ankara needs to do more to help eliminate Islamic State, the US defense secretary said while making his first trip as head of the Pentagon to Incirlik air base in Turkey. Washington expects Turkey to close the border with Syria, which is used for illicit trade with terrorists.
"Turkey has an enormous role to play," Reuters cited US Defense Secretary Ash Carter as saying. "We appreciate what they're doing. We want them to do more,"Carter added, mentioning a small 98-kilometer stretch on the Turkish-Syrian border believed to be used by terrorist to transport oil and stolen valuables to Turkey, as well as munitions and fresh foreign fighters.
"The single most important contribution that [Turkish] geography makes necessary is the control of their own border," Carter said.
Incirlik air base has become one of the most important centers used by the US-led anti-terrorist coalition to stage its air campaign against Islamic State (IS, formerly ISIS/ISIL). The number of coalition aircraft operating from Incirlik has grown from 15 in early September to now stand at 59 aircraft and UAVs - 45 of which belong to the US Air Force, with the remainder coming from Turkey, Qatar and Germany. Up to 1,300 American personnel have been deployed to the base.
The number of military aircraft at Incirlik is set to grow and the US expects Turkey to participate "in the air and [on] the ground as appropriate," Carter said.
"We need to identify and then carry out every conceivable way of accelerating the defeat of ISIL," he added. "The president is asking all of us to do more."
READ MORE: 'Islamic coalition against terrorism': Saudi Arabia presents 34-state military block
On Monday, President Barack Obama announced that Ash Carter's trip to Turkey aims to make sure that America's allies make greater military contributions in the US-led campaign against IS.
According to Defense Secretary Carter, the contributions requested include providing strike and transport aircraft, conducting intelligence flights, as well as deploying troops on the ground to ensure better border control and troop training.
"Different countries can make different kinds of contributions and over this trip and in the subsequent weeks and months I'll be asking them each to make the strongest, most robust possible contribution that they can," Carter said.
The defense secretary also set hopes on the newly-created 34-nation Muslim military coalition formed to fight terrorism in the region.
"I think that some of the Gulf countries could make very important contributions to encouraging and assisting Sunni communities subjected to ISIL rule to resist ISIL rule. That's something that obviously they can do that it's harder for other countries to do," Carter noted.
Saudi Arabia announced the creation of the Arab coalition on Tuesday. Countries like Iran, Iraq and Syria have not been invited to the block.
You can share this story on social media: