'Russian pilots' mistake shouldn't affect bilateral relations' – Erdogan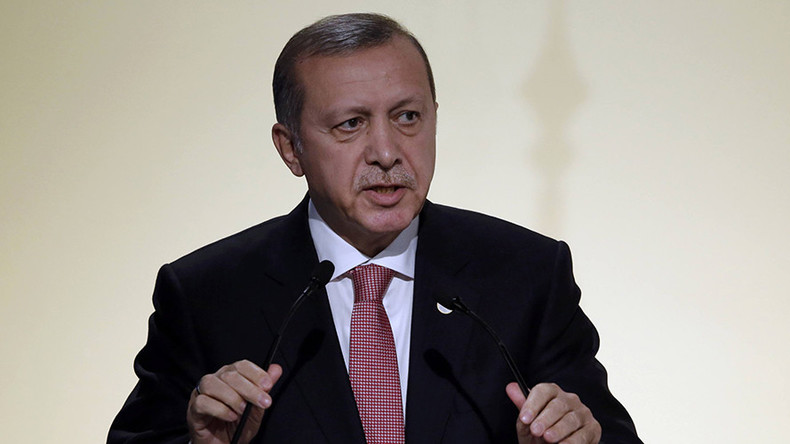 Turkey's president has blamed the downing of the Russian Sukhoi bomber on the pilots, who were "negligent and did not heed the warnings," adding the incident should not affect strategic relations between the two nations.
"We wouldn't have wanted to come across such a [situation], but looking from another perspective, a mistake has been made in our sovereign area. Who made this mistake? Not the manager, of course. It is the pilots who were negligent and did not heed the warnings," Turkish Hurryiet daily quoted President Recep Tayyip Erdogan aboard the presidential plane returning from an international summit in Ashgabat, Turkmenistan.
On November 24, a Turkish F-16 downed a Russian Sukhoi Su-24M bomber, leaving one pilot dead, and putting relations between Moscow and Ankara in jeopardy. Turkey refused to apologize, insisting the Russian warplane had violated its airspace and was warned many times before the F-16 fired its air-to-air missile.
The Russian military stated many times that the aircraft was shot over Syria and that the Turkish fighter jet attacked from behind.
"We have considered Turkey not only a friendly country, but also as an ally in the fight against terror, and no one expected such a despicable, treacherous stab in the back," President Vladimir Putin said at a meeting with Defense Minister Sergey Shoigu, who revealed the flight recorder recovered from the crash site of Su-24.
Following the incident, Moscow introduced multiple sanctions against Ankara, banning agricultural trade with Turkey, reintroducing a visa regime and suspending most bilateral economic projects.
"We are not in favor of tension. We want to continue our strategic partnership and relations with Russia in the same way as we have up to now. We have worked together successfully for the past 10 to 11 years. We want to continue this," Erdogan told reporters.
READ MORE: Before Su-24 downing Putin personally apologized to Erdogan over previous airspace violation
At the summit in Ashgabat, Russia was represented by upper house speaker Valentina Matviyenko, who told reporters that Turkish Foreign Minister Mevlut Cavusoglu had approached her for unplanned talks.
"There was no planned meeting, but the Turkish foreign minister approached me," Matviyenko said.
"We are not responsible for such a crisis developing between Russia and Turkey. Turkey has put forth an aggressive attitude and this is offensive," Matviyenko said. "The one who attacked should take responsibility."