Lavrov after meeting with Turkish FM: 'We haven't heard anything new'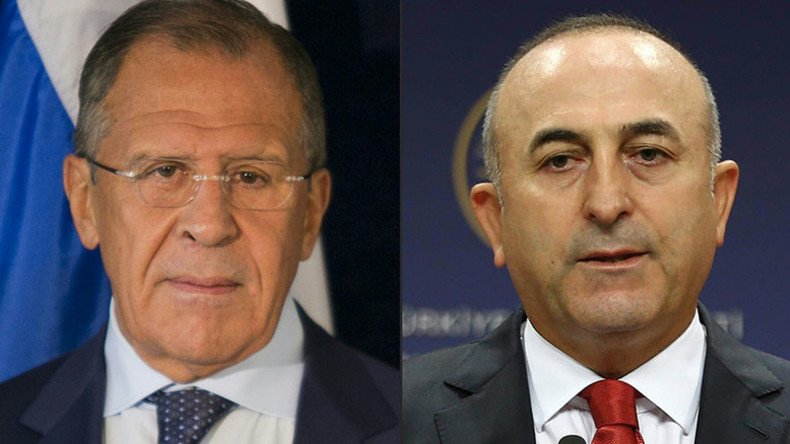 Russian Foreign Minister Sergey Lavrov said that he heard nothing new from his Turkish counterpart regarding Ankara's position on the downing of Russia's bomber in Syria after their meeting on Thursday.
The meeting took place on the sidelines of a conference of the Organization for Security and Cooperation in Europe in Belgrade.
"We met with the head of the Turkish Foreign Ministry on his insistent request, we heard nothing new. The Turkish foreign minister confirmed the approaches publicly expressed by Turkey's president and prime minister. We have repeated our position," Lavrov said.
This was the first time the top diplomats have met since Turkey shot down a Russian Su-24 bomber near the Syrian-Turkish border last week.
For his part, Turkey's Foreign Minister Mevlut Сavusoglu said that the talks with his Russian counterpart had not solved any problems in the two countries' bilateral relations. "The situation remains tense. It would be unrealistic to say that these first negotiations solved any problems," Cavusoglu said, as quoted by Haberturk TV channel.
However, after the meeting, Cavusoglu expressed Ankara's condolences for the death of the Russian pilot whose Su-24 warplane was shot down by a Turkish jet over Syria on November 24, AFP reports.
"We expressed our sadness and expressed our condolences for the Russian pilot who lost his life," Cavusoglu told Turkish media.
Earlier on Thursday in his annual president's address to the parliament, Russian President Vladimir Putin once again accused Ankara of dealing with terrorist groups in Syria and Iraq and voiced frustration over the incident that ruined Turkey's good relations with Moscow.
"We were prepared to cooperate with Turkey on most sensitive issues and go further than their allies. Allah knows why they did it. Apparently Allah decided to punish the ruling clique in Turkey by taking their sanity," he said.
Putin also promised more sanctions and "long-term consequences" for Turkey over the incident, calling it a "betrayal." However, he added that only a "part of the leadership in Turkey" was responsible, stressing that Russia's anger was not directed towards the Turkish people.
Meanwhile, Turkish President Recep Tayyip Erdogan denounced Russian accusations that he and his family are directly profiting from oil trade with Islamic State, calling them "immoral."
Speaking on Thursday in Ankara, Erdogan once again claimed that he would resign if the accusations were proven to be true.
He went even further, claiming that Turkey had proof of Russia's involvement in oil trade with Islamic State.
"We have the proof in our hands. We will reveal it to the world," the Turkish president said, accusing two Russian citizens – a businessman, George Hasawi, and a prominent chess player, Kirsan Ilyumzhinov – of involvement in these illegal activities.
Russian Foreign Minister Sergey Lavrov said he was not aware of the statement, but stressed that it was "strange" coming long after the issue was raised in the media and after Moscow had presented its own evidence of Turkey's complicity.
Turkish Prime Minister Ahmet Davutoglu has also denounced Russia's accusations concerning Turkey's oil trade with Islamic State, describing them as "Soviet-style propaganda," Reuters reports.
"Nobody attaches any value to the lies of this Soviet-style propaganda machine," he said, claiming that rejection of Moscow's accusations by the US served as a proof that they were fabricated.
On Wednesday, US State Department spokesman Mark Toner said that Washington rejects the idea that Turkey could be buying oil smuggled from territories controlled by Islamic State. The statement of support came despite concerns voiced earlier by US President Barack Obama and some other US officials over the lack of security on the Turkish-Syrian border, particularly near the territories seized by the terrorist group.
You can share this story on social media: