New movie stars? Tiger & goat pals in Russian safari park to be filmed by S. Korean director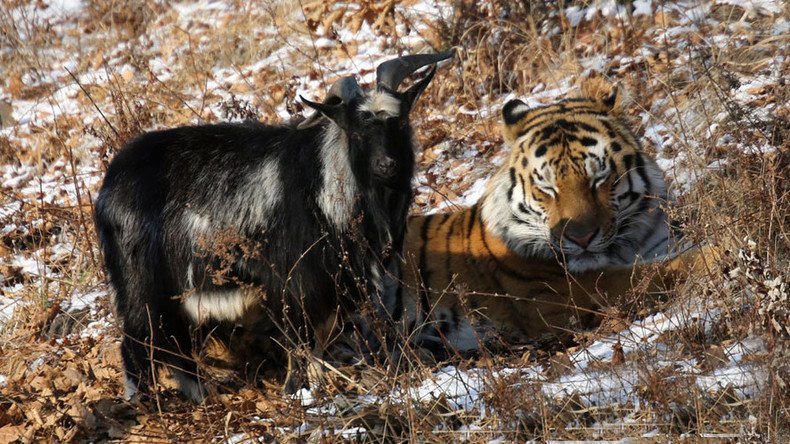 An unusual friendship between predator Tiger Amur and daredevil goat Timur in a Russian safari park has drawn global attention. Now a South Korean director is going to make a documentary about the pair demonstrating that "animals are smarter than humans."
"This story showed to all nations in all continents that animals are smarter than humans – they don't have any racial prejudice and hatred for each other," South Korean filmmaker Sooyong Park said, according to a statement from the safari park in Primorsky Kray in Russia's Far East. He already filmed a documentary about Siberian tigers in 2010. It was called Endangered Emperors of Siberia.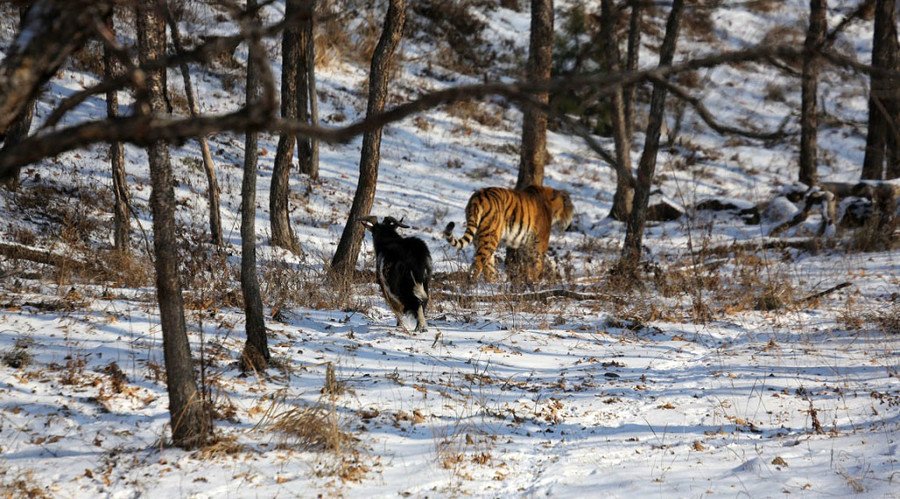 The new film will feature the vast habitat of the Amur tiger, the park's director, Dmitry Mezentsev told TASS, adding that a separate story will be about the Siberian tiger Amur "who made friends with a common goat Timur, which was initially offered the tiger as prey."
"The interest towards the relations [between Timur and Amur] is enormous. We are getting requests for filming and photo sessions from many countries," he said.
The story about the unexpected friendship became first made headlines in November. People from across the world have been watching Amur and Timur online, while visitors have been flocking to the safari park.
Initially, when Timur was brought to the Siberian Tiger, he didn't have any name – the safari staff thought the predator would soon eat him. Amur is used to killing and eating goats and rabbits twice a week.
But the goat appeared to be a die-hard and showed no fear.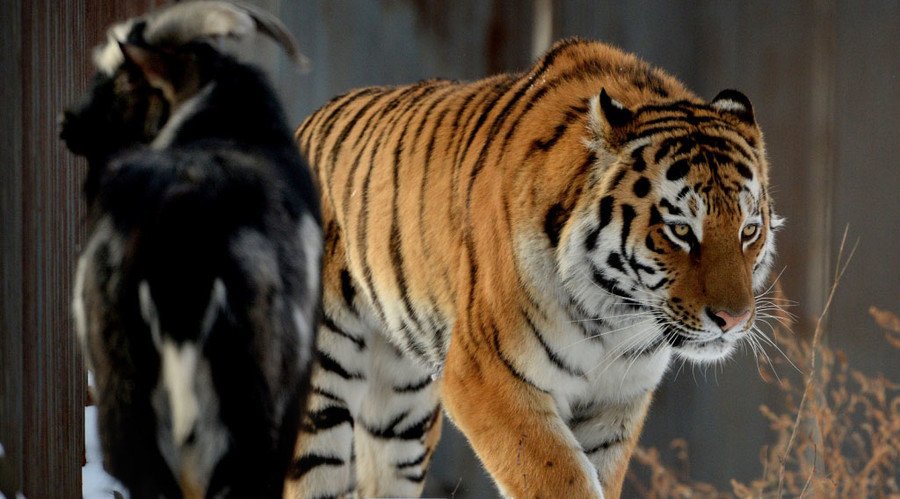 For several nights, the goat even forced his sharp-toothed pal out of his bed, making the predator sleep on the roof of the cave or somewhere else, as Timur lay comfortably in the tiger's crib.
Step by step, their friendship grew and now the three-year-old Amur doesn't view Timur as lunch. Amur can be seen nuzzling at Timur's food – hay and vegetables.
Both animals become stressed when one of them is not around. The zookeepers had previously separated the two after Timur did not whet Amur's appetite. But this proved to be an unpopular decision – as the pals didn't want to live without each other. Amur began to roar all night following the temporary loss of his companion.
Now 'the bros' are together and continue to amaze visitors to the park. It seems that no one is going to separate them – they pose for photos and videos. The park staff have even issued pictures of the duo on T-shirts, mugs and toys.
You can share this story on social media: