Saudi women run & vote in election for the first time
Published time: 12 Dec, 2015 09:19
Edited time: 12 Dec, 2015 09:51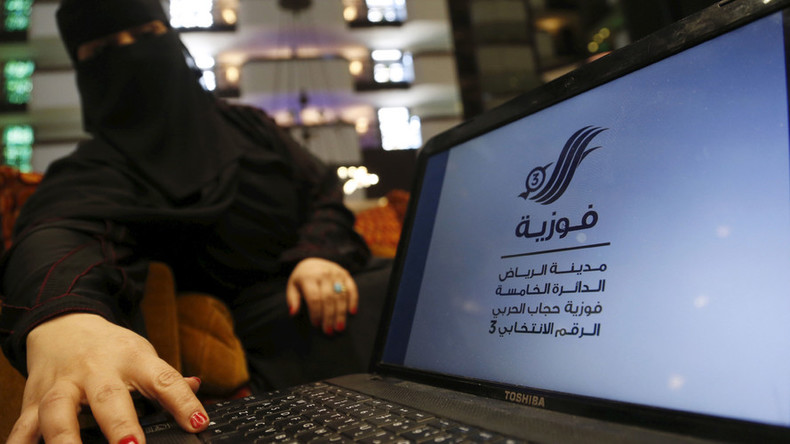 Saudi Arabia is holding municipal elections on Saturday, in which for the first time women will be allowed to vote and run for public offices. The ballot is being ignored by the majority of Saudi citizens and no women may be elected in the end.
The ultraconservative Arab kingdom was the last nation on Earth to introduce universal suffrage. During the previous election in 2011, King Abdullah did not allow women to participate, but promised this would happen in 2015. His successor Salman has delivered on the late monarch's promise.
Municipal elections are the only kind that Saudi Arabia allows. Two thirds of the seats in 284 councils are up for grabs with the remaining officials being appointed by the ministry of municipal affairs. The councils have limited power to run things, such as cleaning the streets and looking after public parks.
There are about 5,938 men and 978 women competing for the vacant offices, according to the BBC. The count of registered voters is similarly disproportionate – 1,360,000 men versus just 131,000 women – and is only a small fraction of Saudi Arabia's 20-million population. Bureaucratic obstacles, a lack of awareness of the process and gender segregation laws all hinder female participation.
"People are put off by segregation and restrictions. They think: 'Why should I bother?' That is true for voters and candidates. Registration is difficult because you need to bring a lot of documents. They are not accustomed to voting and don't have a lot of faith in it. To a lot of people it feels like a waste of time," said Jeddah journalist Samar Fatany as cited by the Guardian.
Campaigning for female candidates was more difficult than for their male competition as well. While both genders were banned from publishing their photos under election rules, for women it was almost impossible to meet voters. Social media and online chats were the main means of communication for female candidates, although some recruited their male relatives to act as proxies for speaking to the public directly.
While many women rights activists in Saudi Arabia see the introduction of universal suffrage as a milestone, there are fears that no female candidates will win a seat in 2015.
"What if no woman wins? My fear is that at this stage we have momentum, but once things settle, and if women are not elected, life goes back to normal," Fatin Bundagji, a board member in Jeddah's Chamber of Commerce, told the Foreign Policy.
Hope remains that even without a single win some female officials may be appointed to councils. Saudi Arabia has been slowly drifting towards allowing women take a greater part in public life. Women have lately served in executive positions in big companies and as cabinet-level officials. They are not barred from the Sharia Council, an appointed body advising the royal family on legislation.
Heavy resistance remains in Saudi Arabia's conservative circles against giving women more rights, which is perceived as crippling westernization by critics. Women are not allowed to drive, travel alone, arrange marriages or apply for jobs without a guardian's consent. Neither are they allowed to meet with male non-relatives.