'Shooting in Paris, lol' tweet lands French 18-yo in jail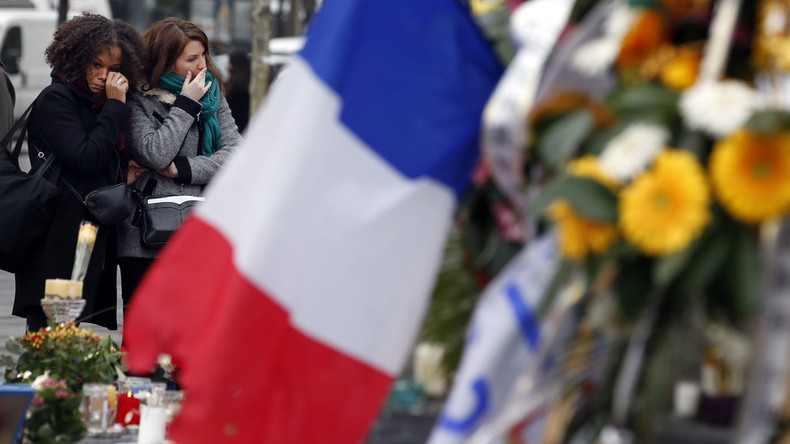 An 18-year-old has been sentenced to two years in prison in France after an investigation revealed he had written thousands of tweets - 70 pages of text in total - praising the actions of Islamic State militants, including the November attack in Paris.
The young man whose identity hasn't been revealed was sentenced on Thursday, according to Le Monde. The prosecutors initially gave him three years in prison, 12 months of which were suspended, for glorifying terrorism.
The teenager, originally from the town of Hérouville-Saint-Clair, near Caen in northwestern France, reportedly wrote that he was eager to "break France like they have broken our country," prosecutors said, as cited by the French press.
Among the terror-backed messages were ones hailing the Paris attacks that killed at least 130 people.
"Paris mobilized against Daesh, lol, they can't do anything," said one tweet said using the Arabic acronym for Islamic State (IS, formerly ISIS/ISIL) militants.
Another added: "Shooting in Paname [slang for Paris], lol", "My best memory of Bataclan, ptdr." Ptdr is the French equivalent of lol.
He also uploaded a picture of Salah Abdeslam, a primary suspect behind the attacks, who is still on the run. Instead of Salah's face he inserted his own face into the post. His lawyer, Jean-Charles Jobin, said this was "for a joke with his aunt."
Police also found a message from a female friend sent after the Paris attacks. She asked: "Swear to me that you had nothing to do with it."
His lawyer says that "beyond" Twitter there is nothing.
The young man has been in custody since November 18 and now says he "regrets" what he tweeted.
READ MORE: Frenchman who fought in Syria identified as third Bataclan attacker
"It was a moment of delirium, I didn't think at all. I created a character for myself. In reality, I am not like that at all...I was hooked on it," he said.
The prosecutor, however, remarked that if "it was a moment of madness, it was a long one."