Fight against ISIS should be extended to Libya – French PM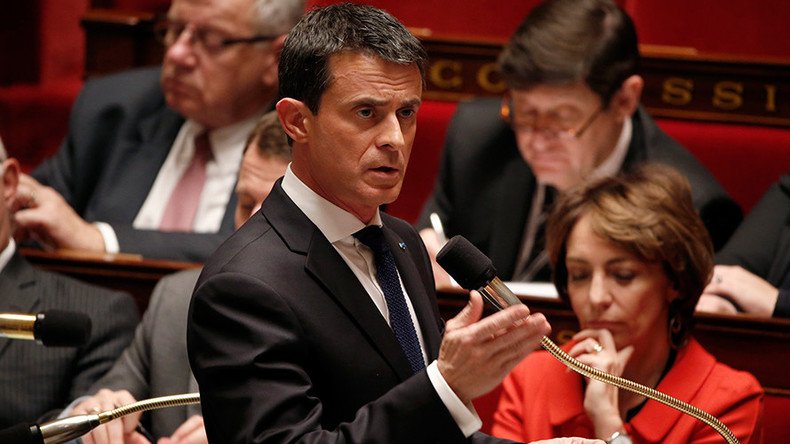 The efforts of the international community aimed at defeating Islamic State (ISIS/ISIL) should be potentially extended to Libya where the extremists are taking hold, said France's Prime Minister Manuel Valls.
"We are living with the terrorist threat. We have a common enemy, Daesh, which we must defeat and destroy in Iraq and Syria and probably tomorrow in Libya," he told Europe 1 radio.
Earlier, French officials have already warned of increasing risks of Libya becoming a safe haven for Islamic State terrorists as US-led coalition, Russia as well as Syrian and Iraqi forces are combating the militants in Syria and Iraq.
"We see foreign jihadists arriving in the region of Syrte [in northern Libya] who, if our operations in Syria and Iraq succeed in reducing the territorial reach of Daesh [ISIS] could tomorrow be more numerous," French Defense Minister Jean-Yves Le Drian told France's Jeune Afrique weekly on Saturday, as cited by AFP.
"It is a major risk and that's why there absolutely must be understanding between the Libyans," he added, referring to a necessity to form a unified Libyan government. At the same time Le Drian ruled out any military intervention in Libya.
"That's not on the agenda. One cannot release the Libyans from their responsibilities by suggesting there might one day be an intervention. They must find solutions themselves," he said at that time.
Meanwhile, French planes took surveillance flights over Libya last week, while France was intensifying its air strikes against Islamic State in Syria and Iraq acting within the US-led coalition and coordinating its actions with Russia after the terrorist group claimed responsibility for the November attacks in Paris.
At the same time, Russian Foreign Minister Sergey Lavrov said on Friday that Russia is not considering any possibility of carrying out air strikes against Islamic State in Libya.
"It is not in our plans as there has been no such request from the Libyan government that we could consider. So it is out of question now," he said as quoted by TASS.
Lavrov also said that he welcomes the efforts of Italian authorities and international community aimed at "helping Libyans to overcome the existing split and create a unified government."
International high-level talks, which are aimed at aiding Libya in creating a unified government, are due to be held in Rome on Sunday. The talks will be co-chaired by the Italian Foreign Minister Paolo Gentiloni and the US Secretary of State John Kerry.
"We are genuinely interested in stabilization of situation in Libya," Lavrov said as quoted by TASS.
The foreign minister also stressed that only a unified, legitimate Libyan government should choose the ways of dealing with the problems the country faces now "after it has broken up as a result of the NATO bombings."
The minister also emphasized that Islamic State acting in Libya is just one of a whole range of regional problems that go beyond the Libyan borders and affects neighboring countries. According to Lavrov, these problems include activities of different militant groups, which previously fought against Gaddafi being supported and supplied with weapons and ammunition by the Western powers, and which now are committing atrocities throughout the region.
Libya fell into chaos after the toppling and assassination of its former leader Muammar Gaddafi in 2011, allowing extremist groups to take hold in warn-torn country. From 2000 to 3000 Islamic State fighters are operating in Libya, including 1500 in the coastal city of Sirte, AFP reports, citing UN data.
Two major rival groups are competing for power in Libya – an internationally recognized government in the East of the country and a militia alliance backed by Islamist groups that seized the country's capital of Tripoli in 2014.
You can share this story on social media: