'Riverdance effect' reaches Siberia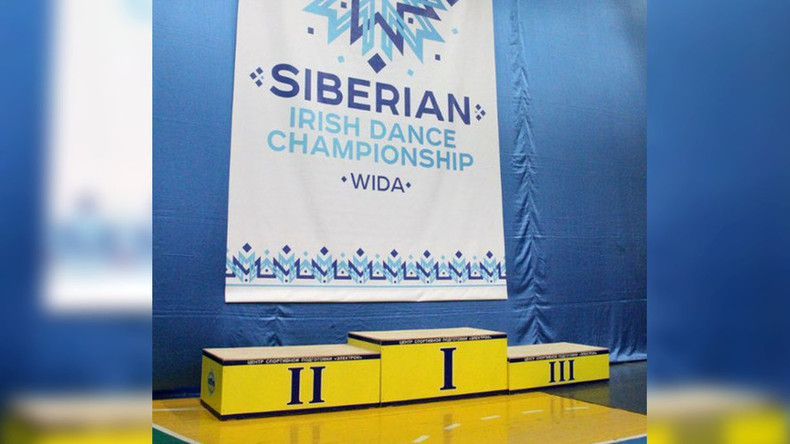 A decade on from the launch of Russia Today, we've opened our digital hub in Dublin, Ireland. In part two of our series about Russian-Irish connections, journalist Jonny Walls look at how Russia's first year voting in the Eurovision song contest gave Ireland the win and started a 21-year love affair with Irish dancing.
READ MORE: The 'bionic' Irish soldier who fought and spied for Russia

April 30, 1994 is a historic moment in both Russian and Irish music history.
Inside a renovated Dublin train depot, Ireland introduced the world to Riverdance - and Russia took part in its first-ever Eurovision song contest.
The seven minutes of jigs and reels were a mere interval between the main singing event, but it quickly became a global sensation.
Ireland's entry song, "Rock 'N' Roll Kids", ended up winning and set the still-unbroken record of three victories in a row, thanks in part to the maximum 12 points awarded to them by Russia.
The Riverdance Effect
Riverdance was composed by Bill Whelan and choreographed by Irish-American dancers Michael Flatley and Jean Butler.
After a performance for Prince Charles and televised fundraiser for Rwanda later that year, it evolved into a traveling show that would be performed 11,000 times for 25 million people and generate over $1 billion (and counting), according to the Seattle Times.
Russians were not immune to the Riverdance effect.
Last month, Krasnoyarsk hosted the second annual Siberian Irish Dancing Championships, nine years after the first classes took place in the region.
Hundreds of dancers of varying ages took part in 2014. The Siberian Irish Dance Academy based in Kemerovo skipped away with most of the prizes while the team from Krasnoyarsk took the Ceili competition.
Not all Russians find the quick steps easy to master.
When Irish country singer Daniel O'Donnell was paired with Russian professional ballroom dancer Kristina Rihanoff for the BBC's hit reality TV show "Strictly Come Dancing", he took the opportunity to teach his partner some traditional steps.
The experiment, it seems, was short-lived.
Moscow, which now boasts 12 schools and more than 1,000 students, was one of the first places in Russia to embrace Irish dancing.
Instructor Alexey Popov never tires of the craft's endless potential: "I loved the music, but then fell in love with the dancing. It's sincere and energetic, and when you hear this music, you just want to dance."
"Flatley brought Irish dancing to a wide audience and made a fashion of it," Popov added. "We get lots of Russians coming in saying they want to dance like him. We do our best!"
Another of those touched by Riverdance was Lilia Zinatullina, who has since brought Irish dancing to the city of Kazan on the banks of the Volga.
A dance enthusiast since childhood, Zinatullina discovered Riverdance when she borrowed a friend's video recording of the performance. She was hooked and learned the moves by watching the tape over and over.
Her hard work eventually paid off and she went on to join the choreography department of Kazan University before taking Irish dance master classes with Riverdance veterans John Carey and Colin Dunne.
"From age 6, I knew that dance was my life," Zinatullina says. "I confidently pursued it even though my parents didn't quite approve of it."
Since 2007, Lilia has run the Sonas (Irish for happiness) dance school in the city.
"Not many people signed up for the class at first as few in Kazan knew what Irish dancing was at the time," remembered the Bashkir native.
Today she teaches five Irish dance classes a week with 30 students in total. They range in age from five to 45.
Sonas is now part of the Carey Academy, with Carey himself regularly visiting Russia to impart his dancing expertise to teachers and students.
His academy also runs Irish dance classes in Ufa, Samara, Tolyatti, Izhevsk, Magnitogorsk, and Chelyabinsk.