'Don't mess with Shorty': Mexican cartel boss threatens ISIS over drug trade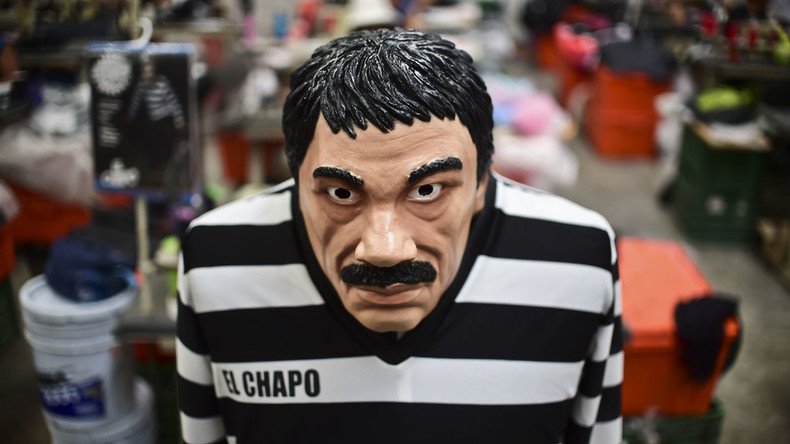 The runaway leader of Mexico's deadliest drug cartel, Joaquín "El Chapo" Guzmán, has reportedly sent a threatening letter to Islamic State following the destruction of one of his cartel's shipments.
UPD: Sorry folks, Mexican drug cartel not at war with ISIS
El Chapo (aka "Shorty") delivered the threat to Islamic State (IS, formerly ISIS/ISIL) leader Abu Bakr Al Baghdadi via an encrypted email which was later leaked by cartelblog.com.
The Mexican drug baron, who runs the notorious Sinaloa cartel, made it clear IS had "made a mistake" by destroying the cartel's drug shipment.
"You [IS] are not soldiers," El Chapo wrote, according to the unnamed blogger cited by cartelblog.com. "My men will destroy you…" he promised Al Baghdadi.
"Your god cannot save you from the true terror that my men will levy at you if you continue to impact my operation," it said.
El Chapo became Mexico's top drug lord in 2003. He was believed in 2011 to have surpassed infamous "cocaine king" Pablo Escobar, with the US Drug Enforcement Administration calling El Chapo the biggest drug tycoon ever.
El Chapo is wanted by Mexico, Interpol and the US, which has offered a $5 million reward for information leading to his capture.
Guzman was first arrested in 1993 and spent a decade in a maximum-security prison in Mexico before escaping. He spent 13 years on the run before his recapture in 2014.
READ MORE: Mexican drug lord Guzman hurts face & leg in 'hasty retreat' from police raid
In 2015, El Chapo made a prison break through a 1.5-kilometer long, 10-meter deep underground tunnel dug from his cell, reportedly having paid as much as $50 million in bribes to facilitate his escape.
You can share this story on social media: