Mexican drug lord Guzman hurts face & leg in 'hasty retreat' from police raid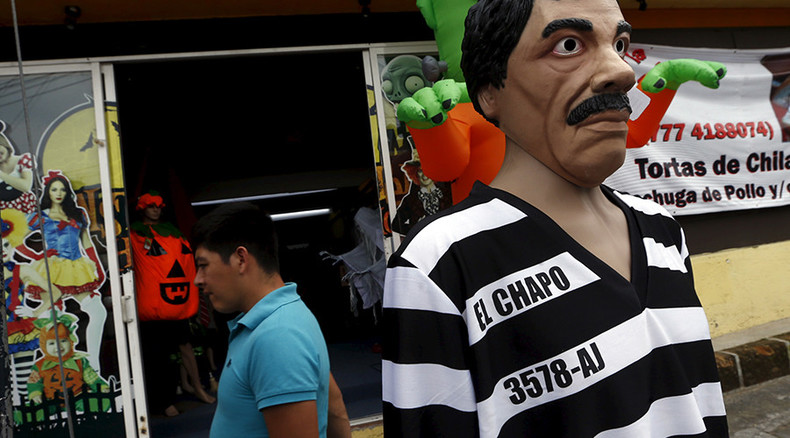 Infamous drug lord Joaquin "El Chapo" Guzman evaded a police operation to capture him in northwest Mexico, the Mexican government said. The head of the Sinaloa cartel previously embarrassed law enforcement by escaping from a maximum-security prison.
A government statement on Friday said the attempt to recapture Guzman took place not far from his native turf in Sinaloa state and that he suffered injuries.
"As a result of these actions, and to avoid his capture, in recent days, the fugitive engaged in a hasty retreat, which, according to the information received, caused him injuries to one leg and the face," the government said. "It's important to clarify that these injuries were not a result of a direct clash."
READ MORE: Vast majority of Mexicans believe govt complicit in drug lord El Chapo's prison break
The Mexican government didn't provide further details but said it would continue to try and capture the fugitive. Earlier on Wednesday the governor of Sinaloa said special forces have been conducting operations in the neighboring state of Durango. Sinaloa, Durango and Chihuahua are notorious for being hotbeds of illegal drug production and are areas where Guzman has public support.
Guzman was first arrested in 1993 and spent a decade in a maximum-security prison in Mexico before escaping. He spent 13 years on the run before his recapture in 2014. In July he escaped from prison again through a 1.5 km tunnel.
Several prison officials have been arrested as the investigators suspect that Guzman had inside help to aid his breakout.
The second escape came as a major embarrassment for the government of President Enrique Pena Nieto, whom Guzman taunted on Twitter after escaping.