Netanyahu's dog says 'Happy Hannukah' by biting 2 guests at official event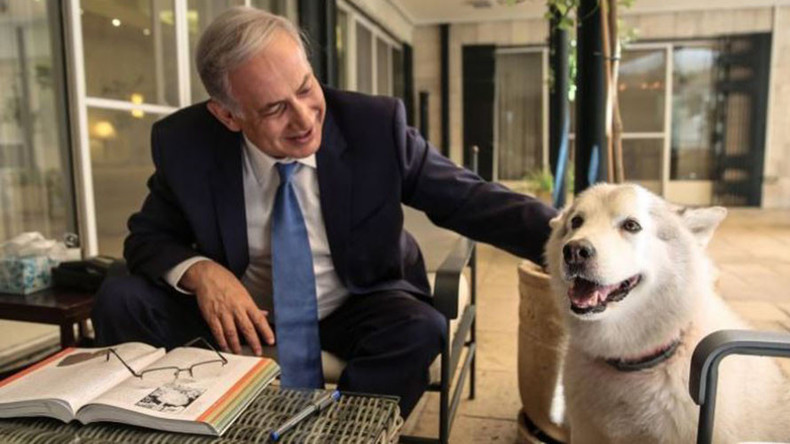 The pets of politicians often find themselves surrounded by important people – but they're not always on their best behavior. Israeli Prime Minister Benjamin Netanyahu's recently-adopted pup Kaiya sank her teeth into two visitors at a Hannukah event.
The 10-year-old mixed breed was invited to a candle-lighting ceremony to mark the Jewish festival of Hannukah on Wednesday – but she didn't play nice with the other visitors.
The cheeky canine bit two people at the event, including an MP Sharren Haskel from the ruling Likud party.
However, Haskel – a trained veterinary nurse whose hand was bitten by Kaiya – dismissed the incident, telling Army Radio it was "trivial."
Witnesses told the Times of Israel that the PM was visibly embarrassed, and accompanied Haskel to a side room where on-duty paramedics bandaged her hand.
But the embarrassment didn't end there.
Minutes later, attorney Or Alon, husband of Deputy Foreign Minister Tzipi Hotovely, was also bitten on the hand, reportedly moments after Netanyahu said "Get away from her, she bites." He was also bandaged by the in-house team of paramedics.
But the incidents didn't deter Haskel and Alon from staying for the candle-lighting ceremony; both were seen smiling in photographs with the PM.
Kaiya was taken in from a rescue home earlier this year after Netanyahu's son found her at a pound about to be euthanized. In August, the prime minister posted a picture on Twitter urging dog lovers to adopt adult canines, saying "You won't regret it!"
He also took to Facebook at the time, proclaiming his adoration for the "gentle and mild-mannered dog that instantly became a member of our family."
The rescue pup has met a number of other dignitaries in the past, including US Secretary of State John Kerry. However, it remains unclear whether she'll be invited to future events.