German court drops provocative 'Sharia police' uniform case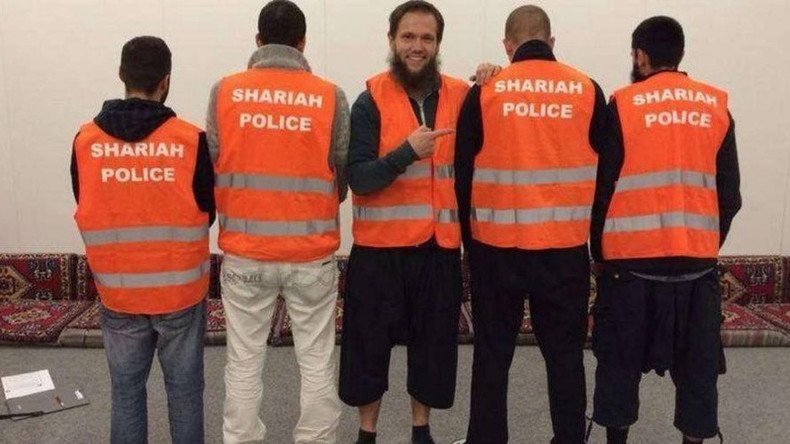 A German court has refused to press criminal charges against a squad of "Sharia Police," who "patrolled" the streets of Wuppertal in self-styled "uniforms." The group alarmed locals last year by preaching Salafist morals outside of casinos and bars.
A Wuppertal city district court rejected a case against the controversial self-declared 'Sharia police,' saying the orange safety vests worn by the group did not breach any laws. The court said that the bright neon vests that bore the inscription do not form any intimidating or threatening messages and furthermore could not be confused with a real police uniform.
The young men from Salafist movement, an ultra-conservative reform movement within Sunni Islam, caught the attention of authorities in North Rhine-Westphalia's city as they were preaching in public places calling on people to refrain from bad habits.
The group was seen in the city's nightlife area in September last year while trying to urge people to stop using alcohol, drugs, gambling, pornography and other activities. They also reportedly distributed leaflets with the same guidelines.
Their actions cause a wide public outcry from both the local residents and the politicians who rejected the use of Sharia law in Germany.
"We will not tolerate an illegal parallel justice," warned Justice Minister Heiko Maas at the time.
"Sharia law is not tolerated on German soil," Interior Minister Thomas de Maiziere echoed the message. While Bavaria's interior minister Joachim Herrmann described 'Sharia police' actions as a "direct attack by the Salafists on our rule of law."
READ MORE: Sharia controlled zone' in Germany: Group of young Muslims patrolling city streets

In early August this year, the Wuppertal Public Prosecutor had filed a case against nine Salafists, aged 24-35 for violating the ban on uniforms. Prosecution argued that wearing 'Sharia Police' insignia on the safety vests was a criminal offense, and argued that uniformity of dress code of the Muslim activists equated to wearing uniforms.
Wednesday court ruling however said that only symbols of organized violence or insignia of known militant groups are prohibited.
While dismissing the criminal charges against the group, the court said that they will pursue charges against a 34-year-old leader of the movement Sven Lau accused of infractions against the law on freedom of assembly.
You can share this story on social media: