15yo among two arrested, charged in Sydney counter-terrorism raids (VIDEO)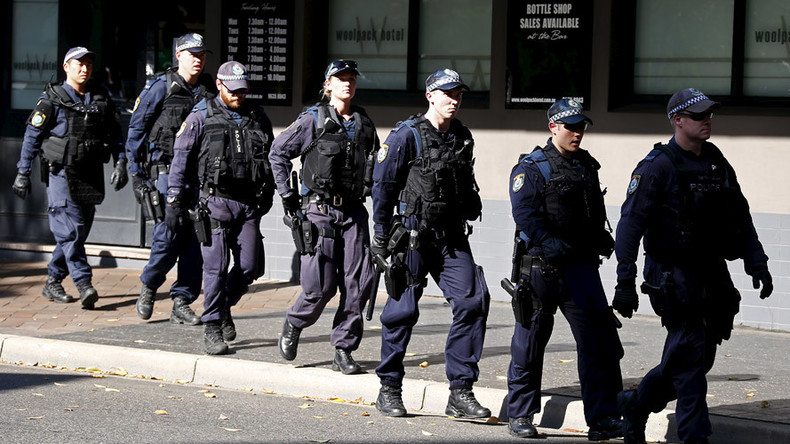 Two young men aged 15 and 20 have been arrested and charged with terrorism conspiracy following at least four Federal police raids in Sydney as part of a wider counter-terrorism investigation.
A 20-year-old man name Ghazzawy, from Raby, and a 15-year-old boy from George Hall were charged with conspiring to conduct an act in preparation for a terrorist act.
Investigators believe that the two males are part of a larger group that was planning to attack an Australian Federal Police building.
Police alleged that the duo was involved in "formulating documents connected with preparations to facilitate, assist or engage a person to undertake a terrorist act," AFP Deputy Commissioner Michael Phelan said.
Read more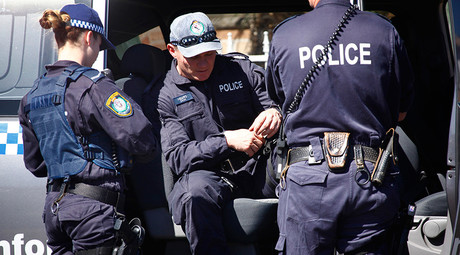 New South Wales police said the raids at Georges Hall and at Raby were part of its counter-terrorism investigation dubbed Operation Appleby aimed at detecting and preventing terrorist attacks on Australian soil.
Intelligence gained during anti-terrorism raids last September and December, in Sydney and Brisbane, led to Thursday's arrests.
"As a result of putting all of that information together, working through those documents, putting physical and electronic surveillance together, we were able to build a case of conspiracy for five people involved in the preparation of these documents," Phelan said.
Police plan to charge at least three more suspects with similar offenses later on Thursday, Phelan told reporters in Sydney.
"It's disturbing that we're continuing to see teenage children in this environment," NSW Police Deputy Commissioner Specialist Operations Catherine Burn said prior to the announcement of charges, Sky News Australia quotes.
"There's absolutely no doubt about the fact that we're charging a 15-year-old with a very, very serious offence – this is an offence that has a maximum of life imprisonment."
Operation Appleby is an ongoing probe by the Australian authorities of people suspected of involvement in plotting domestic acts of terrorism or supporting international terrorism.
Australia is on high alert following a number of terror-related crimes involving minors over the past year. In September 2014 a Melbourne teenager stabbed two counter-terrorism officers before being shot dead by the police. Last December, two hostages taken by a lone gunman were killed in a 17-hour siege.
In October, a 15-year-old boy assaulted police headquarters in a Sydney suburb, killing accountant Curtis Cheng before being shot dead in a gunfight with police outside the building.