'Uber is illegal' - Toronto taxi protestors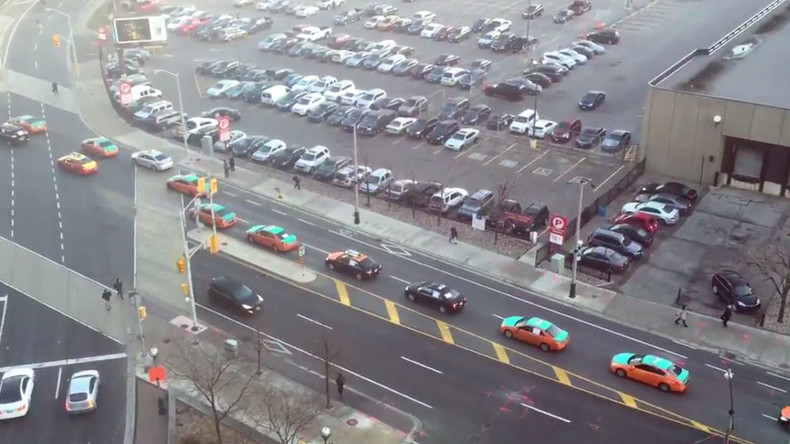 Thousands of taxi and limo drivers are expected to protest against Uber in Canada's largest city, Toronto, on Wednesday.
As many as 2,000 licensed drivers will participate between 7.30am and 7:00pm by gathering in four points across the city, along with a peaceful march starting from downtown towards City Hall and Queen's Park.
Following a few unsuccessful Uber protests in the past, Sajid Mughal, president of the iTaxiWorkers Association, said although there have been "small demonstrations here and there, now is the time we should be loud and clear".
"The plan is not to disrupt the public or the traffic, try to be as organized as possible," said Mughal to the Toronto Star.
Sajih and protestors will push the city to seek an injunction to shut down UberX while lawmakers work to enforce the recently-passed bylaws.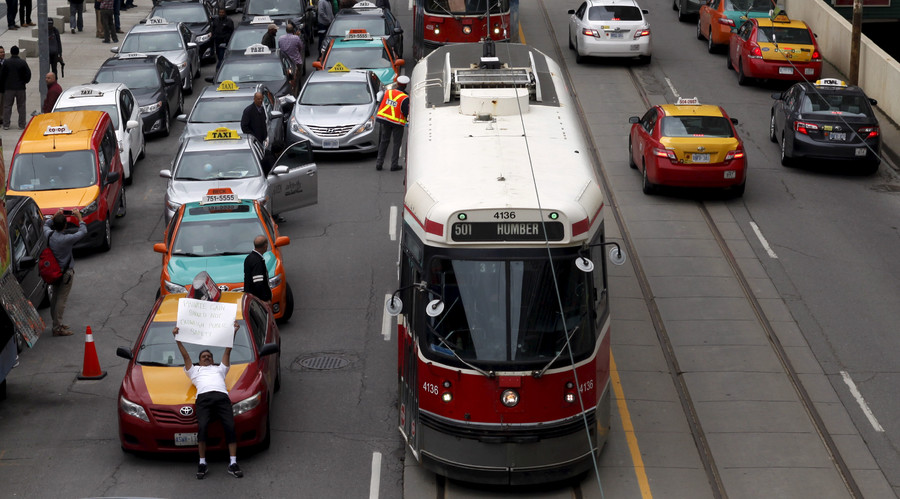 These will require Uber drivers to pay the annual fee for being a taxi or limousine service, which means users would only be connected to licensed cabs.
"Our list [of demands] is very short and very clear: that we want fairness. We want the enforcement of the bylaws that [the] city passed on September 30," said Sajih.
The city council agreed to create a "level playing field" for Uber drivers in Toronto earlier this year, a significant win for licensed drivers negatively affected by the UberX service.
Uber, a US tech company worth more than US$60 billion, uses unlicensed drivers with their own cars to charge a cheaper fare.
"The city staff should take as much time as they need to draft a proper bylaw which will provide a level playing field. In the meantime, as we are talking today, Uber is illegal," said Mughal.
Kristine Hubbard, a Beck Taxi spokesperson, said although the message the cab drivers are trying to deliver is "absolutely correct", the company does not encourage drivers to protest.
Toronto councillors voted to protect rank-and-file taxi drivers from speculative investors and phase out traditional taxi plates by 2024. It was a welcome change for members of Mughal's association.
"The industry was held hostage to investors who had no direct interaction with the public, but just took money out of the system," Mughal told Global News earlier this year. "This is not the stock market. It's a hard job. Drivers are working twelve hours a day, seven days a week, and they still don't make enough money."
The app-based ride services represent a threat to those who invested in taxi licenses as well as drivers on the road. The average cost of a Toronto license plummeted when the Uber and Lyft arrived in the summer of 2012.
READ MORE: 115,000 sign Uber petition against Transport for London car hire crackdown

Social media had a mixed reaction, with some preferring the convenience of Uber over solidarity with struggling taxi drivers.
Taxi protest now has meant that I am definitely taking an @Uber to my meeting today. Not the most effective...

— Michelle Arbus (@michellearbus) December 9, 2015
If #Toronto#taxi drivers want to protest #Uber why not give ppl free rides rather than clogging traffic?They'll reach more & piss off less.

— Valentino Assenza (@ValAssenza) December 9, 2015
@matwilcox and does anyone really think this morning's cab protest is going to do anything except throw more support uber's way?

— Racheal McCaig (@RachealMc) December 9, 2015
This taxi protest is causing a major gongshow on #Toronto streets. Isn't this counter-productive as it will be a big money day for #Uber?

— Lyndsey Vanstone (@VanstoneL) December 9, 2015
Sad to say, the T.O. cabbies' traffic-slowing protest is great advertising for #Uber this morning.

— Peter Martyn (@Peter_H_Martyn) December 9, 2015
You can share this story on social media: