'Desperate ugliness & miserable vandalism': Anti-govt protesters rage in Albanian capital (VIDEOS)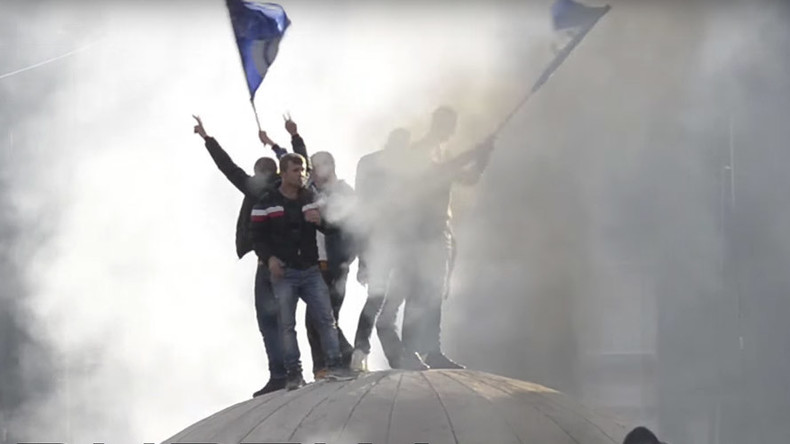 Thousands of anti-government activists have gathered in the streets of the Albanian capital Tirana, demanding that Prime Minister Edi Rama step down. The protests became unruly with protesters breaking windows and torching buildings.
Demonstrators threw eggs, cobblestones and bags containing green and blue dye at the gate of the prime minister's office. Others engaged in similar actions at the front of the Transport Ministry building.
A group of activists hit an effigy of Albanian Prime Minister Rama with wooden beams and then burned it, while holding anti-government banners. The protesters also set fire to a bunker.
Additional police officers were deployed around the Sheshi Skenderbej, the central square in Tirana which was at the heart of the protests, but they reportedly did not resort to force. Whether there have been any causalties is as of yet unknown.
The protest was organized by the opposition Democratic Party and coincided with the 25th anniversary of a student protest against the communist regime. Protesters are dissatisfied with the corruption and economic situation in the country which has encouraged many Albanians to leave it for the EU.
"We shall not get tired, will not be trampled," Democratic Party head Lulzim Basha told the crowd as cited by Reuters.
"This is the start of a season of protest that will stop only when its popular goals are achieved. Civil disobedience has started. A technical government is the solution," he added.
Prime Minister Rama, head of the Albanian Socialist Party called the protests "scenes of desperate ugliness and miserable vandalism" on his Facebook page.
"Disgust for the policies of a Democratic Party in continuous disarray, without vision, leadership," he wrote, as cited by Reuters.