At least 9 killed in Taliban attack on Afghan airport – reports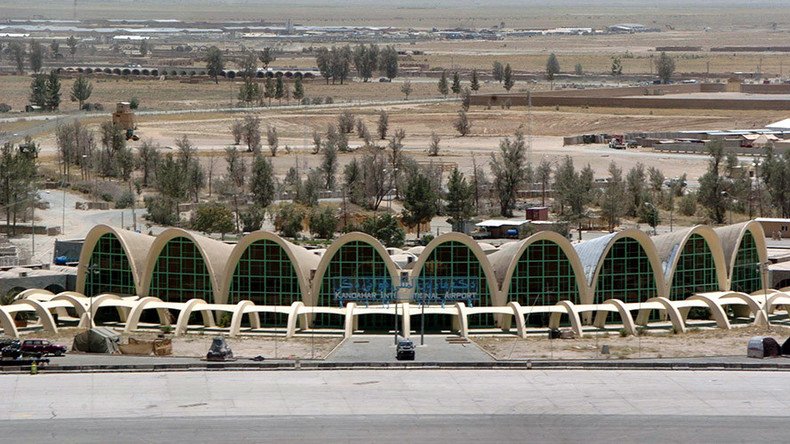 Heavily armed Taliban militants wearing army uniforms have attacked Kandahar International Airport, killing at least nine people. Hours of ongoing fighting between jihadists and security forces has reportedly left all ten attackers dead.
The attack started at 6:20pm local time when jihadists armed with AK 47, rocket launchers and some wearing suicide vests took control of a school near the airport buildings. According to reports the Taliban fighters were wearing military uniforms during the attack.
The gunmen then proceeded to target apartment buildings of government employees and the joint Afghan-NATO military base at the airport, a spokesman for the Kandahar provincial governor told AFP.
"They fired several rockets on airport and engaged with security forces at the site," a security source told Xinhua anonymously.
The Taliban claimed responsibility for the Kandahar attack, boasting on its website that "a number of martyrdom seekers armed with heavy and light weapons entered Kandahar airbase undetected and have begun engaging the large number of foreign invaders and their hirelings inside."
During hours of intense fighting, which concluded only at around 11:00pm, at least nine people were killed and about 15 wounded, a senior Afghan Army officer at the base told the New York Times.
According to the anonymous officer, most casualties were civilian shop owners who had been caught in the middle of the fighting. The officer added that some bodies were badly burned. Flights to and from the airport have been suspended.
Ten Taliban fighters have been killed after staging the attack, officials told Al Jazeera, with at least one reportedly detonating the explosive vest he had been wearing.
Earlier on Tuesday, Taliban militants attacked a police station in Kandahar, injuring two policemen. As a result of the assault two militants were killed.
In the past several months the security situation in Afghanistan has deteriorated. Taliban insurgents waging war against the Afghan government have recently stepped up their offensive in large cities. In September, Taliban militants briefly seized Kunduz, the country's fifth largest city, which is located in the northern part of Afghanistan and has a population of about 300,000 people.
You can share this story on social media: