Stunning images show Guatemala's 'Volcano of Fire' increasing activity (PHOTOS, VIDEOS)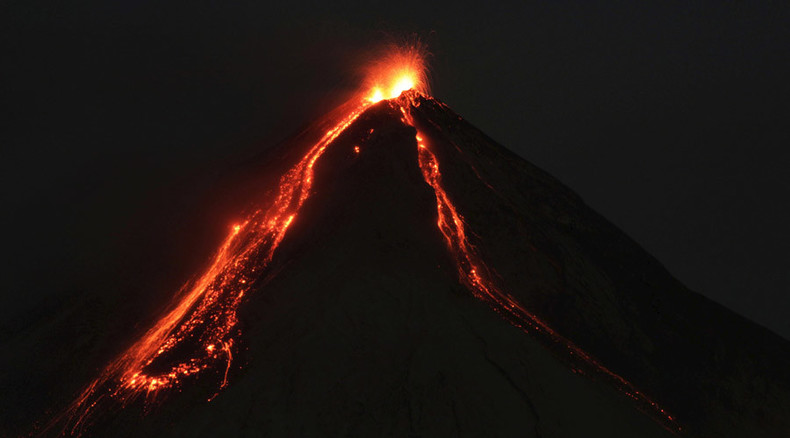 An active volcano in Guatemala has entered a new eruptive phase, sending huge lava fountains into the air. With no evacuation measures announced, people living in the area have been able to capture breathtaking images of the volcano and share them with the world.
Volcan de Fuego - which translates as "the volcano of fire" - is located some 50 kilometers (31 miles) from the capital, Guatemala City. The volcano is experiencing a new peak in activity, with lava and smoke erupting from its crater, and ash covering the surrounding areas, AFP reported, citing the Guatemala Institute of Volcanology.
"The Fuego volcano is in a phase of high activity. Since Sunday morning the largest increase has been observed, [this] being the beginning of a new eruption," the institute said in a special bulletin.
Lava fountains reached as high as 250-300 meters (up to almost 1,000 feet) above the crater, sending lava flows to a distance of up to 2,000 meters (6560 feet).
The eruption is accompanied by strong explosions, observers added, saying that they are causing shock waves in the area.
The Fuego is also sending volcanic ash high into the air, with ash plumes reaching a height of some 4,800 meters (3 miles) above sea level. The ash is then traveling to the west and southwest from the volcano at a speed of over 13 kilometers (8 miles) per hour.
Ashfall on several villages located near the volcano's slopes has already been reported. So far it has not been necessary to evacuate people, monitors said.
The powerful new eruption might increase even further, scientists said, recommending the implementation of a yellow state of alert. Air traffic control has also been warned that the ash is traveling high into the air.
While scientists continue to monitor the volcano, posting webcam images of the Fuego, some locals have shared their own photos of the eruption under a hashtag translated as "good things about my country."
The Fuego has already had a huge eruption this month, forcing an evacuation in nearby populated areas. In February, authorities had to close Guatemala airport due to powerful Fuego activity.
The "Volcano of Fire" is a stratovolcano – also known as a composite volcano - which has been continuously active since 1999. It's typical activity includes dozens of small-scale daily eruptions. More intense bursts have been observed several times this year.
You can share this story on social media: