Turks fling 'dung' at President Erdogan, mull life without Russian gas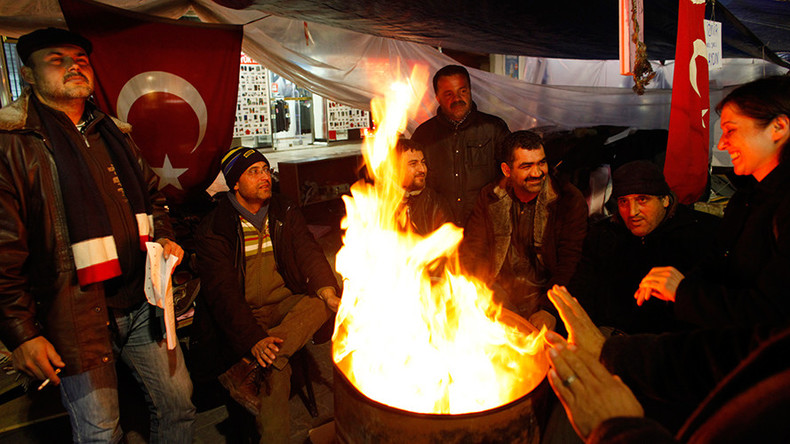 The Turkish opposition has given the country's leader a cold shower, telling President Erdogan to heat his palace with dung instead of gas after he stated that Turkish people are used to suffering and can do without Russian supplies.
Answering a question about Russia possibly stopping supplies of natural gas to Turkey, Recep Tayyip Erdogan said that Turks "are accustomed to suffering."
The current crisis in Russian-Turkish relations is a result of a Turkish F-16 fighter jet shooting down a Russian Su-24M bomber in Syrian airspace, which prompted Moscow to introduce harsh economic sanctions against Ankara.
READ MORE: Russian government ratifies economic sanctions against Turkey
"As you know, we have not lived with natural gas our whole lives. We all know how long it has been since we began using natural gas. … Moreover we will not be doomed if we cannot acquire Russian gas," Turkish daily Today's Zaman cited Erdogan as saying while returning home on December 1 from a climate conference in Paris.
Erdogan also said that Turkey could buy natural gas from other countries. Indeed, it was announced next day that Turkey's gas monopoly BOTAS has signed a memorandum of understanding with Qatar on liquefied natural gas (LNG) supplies to Turkey.
Last year Turkey bought 47.6 bln cubic meters of natural gas abroad, of which Russia supplied about 60 percent via existing gas pipelines going directly from shore to shore in the Black Sea. Yet the main difference between LNG and gas from a pipeline is its price, which is significantly higher for LNG.
So some Turkish politicians have refused to buy the president's assurances.
"The people of this country have suffered enough," the leader of the minority opposition Nationalist Movement Party (MHP), Devlet Bahceli, wrote on Twitter.
"From now on, the presidential palace must be heated by burning dried cow dung in stoves. It's easy to talk, go ahead and share the people's suffering," Bahceli said, addressing President Erdogan.
Bu milletin çektiği çile yeter. Artık sarayda tezek yakılsın, saray sobayla ısınsın. Konuşması kolay, buyurun çileye biraz da siz ortak olun

— Devlet Bahçeli (@dbdevletbahceli) December 3, 2015
Russia's Gazprom energy giant has suspended negotiations over the Turkish Stream project following the attack of Turkish Air Force on the Russian warplane in Syria.
READ MORE: Russia halts Turkish Stream project over downed jet
But Moscow has not threatened to halt the supply of natural gas under existing contracts.
Delivering his annual address to the Russian Parliament on December 3, President Vladimir Putin specifically stressed that Russia remains a good friend to Turkish citizens.
Read more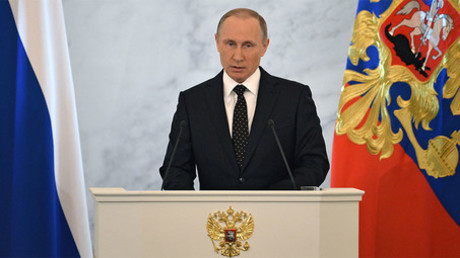 "We have many friends in Turkey," he said. "They should know that we do not equate them and the part of the current Turkish leadership which holds a direct responsibility for the deaths of our troops in Syria," Putin said.
"Let those in Turkey know who [it was who] shot our pilots in the back, who hypocritically try to justify themselves and their actions and cover up the crimes of terrorists," he added.
The Russian president's keynote speech in the Kremlin on Thursday was for the first time aired live on Turkish TV and radio.
When the Russian president pronounced these cordial words addressed to Turkish citizens, many of them breathed a sigh of relief, the president of the Russian Middle East Institute Yevgeny Satanovsky told to Russian News Service radio station.
The current standoff in Russian-Turkish relations is not simply a problem for Turkish businessmen, some of which, like hotel owners, are headed for ruin, Satanovsky said. "There are about 200,000 intermarriages [between Russian and Turks]," he said.
But while Satanovsky put the blame for this on President Erdogan, he said there was unlikely to be a change in government in Turkey anytime soon.