Tens of thousands march against government in South Korea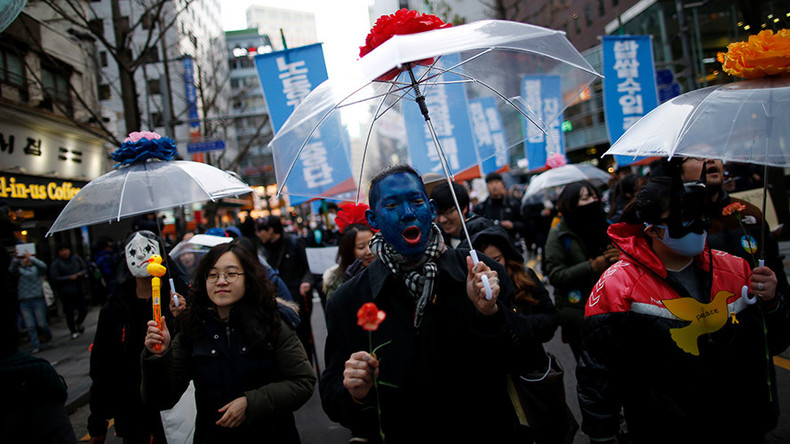 Tens of thousands of left-wing protesters have taken to the streets of South Korean capital, Seoul, on Saturday to protest a number of government policies, which they believe threaten the country's well-being and liberties.
An estimated 30,000 people showed up for the protest against President Park Geun-hye and her government, according to Itar-Tass. The event is held less than a month since the previous massive anti-government rally in the capital on November 14.
About 120 civic groups organized the Saturday protest in Seoul. They are against a free trade treaty with China, which was signed recently, which, protesters say, would benefit big corporative sponsors of President Park's conservative Saenuri Party by opening new markets for them, and hurt small businesses, which would be challenged by Chinese competition.
They also criticize resent changes to the labor law, which gives employers more leeway in sacking workers.
Another point of discontent is the government's plan to introduce a standard history textbook for South Korean schools, a move seen with great suspicion by many left groups. They suspect that the Saenuri Party wants to whitewash the darker pages of South Korean transition to democracy through a series of dictatorship governments that cracked down on labor and rights groups.
Among the military dictators of the past is President Park's father, Park Chung-hee, who held the same office between 1962 and 1979. Park's term was cut short when he was assassinated by Kim Jae-gyu, Director of the country's powerful Central Intelligence Agency, who conspired against his long-time friend amid a power struggle with the head of presidential bodyguard service.
Seoul police deployed some 18,000 officers to provide security at Saturday's rally. The police and the organizers pledged to steer away from confrontation to prevent clashes similar to those that marred the November event, Yonhap news agency reported.
The violence at the previous rally resulted in a 69-year-old protester falling into a coma after being hit with water cannon. The protest on Saturday includes a march to the hospital, where he is being treated.
Ahead of the event the police said they would not deploy water cannons or use police vehicles to build barricades, but warned that force would be used if the demonstrators try to march towardx Cheong Wa Dae, the presidential office.
The police tried to prevent the rally citing security concerns, but organizers secured a court order that overturned the police ban.
You can share this story on social media: