Migrant repellent? Pork pinned to truck by German driver… to deter stowaways (VIDEO)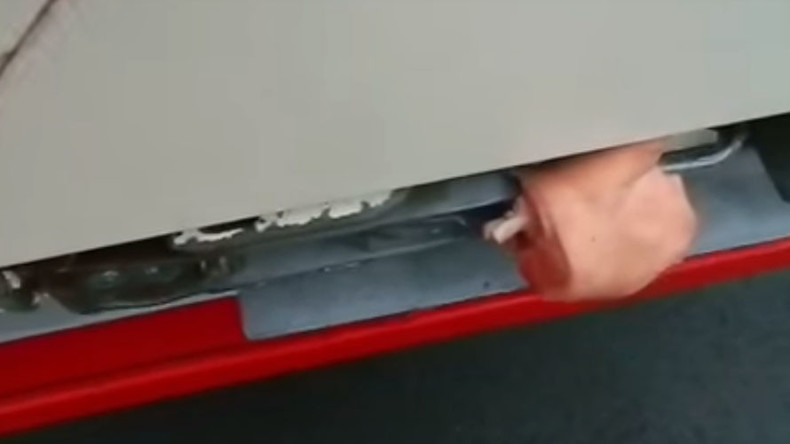 While European politicians are trying to figure out how to deal with the mass movement of refugees and migrants from Africa and the Middle East, one truck driver has taken things into his own hands. His viral 'method' targeted Muslim trespassers in particular.
Fed up with stowaways trying to hop onto his UK-bound vehicle, one German truck driver passing through Calais came up with what he thought was a brilliant repellent – at least against majority of supposed Muslim refugees and migrants.

With followers of Islam forbidden from eating pork on religious grounds, he decided to place several cuts of the meat on his truck. The 'protective belt' was then filmed and uploaded to YouTube.
The supposed hauler can be heard laughing in the video as he shows how he has fixed the meat to a number of points along his truck in the hope that it will deter the refugees from trying to gain illegal entry.

While some online commenters dismissed the idea as childish and probably swinish too, the vast majority responded with an outpouring of support for the drivers' resourcefulness in finding this "creative solution."

READ MORE: Dutch welcome: Pig heads left at migrants' camp entrance in Netherlands (GRAPHIC)

Some noted that there must be something really wrong going on in Europe, if people have to resort to this sort of self-defense.

"As far as Europe is! Self-protection! Funny though it is more than sad. Does this not show how helpless the European Union is? [sic]" user Lotto Otto said.
Drivers face large fines and possible imprisonment if found with stowaways on-board. In one August case, even reporting the surprise discovery to police did not save a truck driver from getting slapped with a hefty fine of £19,500 (over €27,000), the Guardian reported.

The video of pork 'amulets' started making the rounds in the media as EU member states backed the possibility of suspending the Schengen agreement for up to two years in an attempt to stem the flow of migrants and refugees into Europe. At present, countries can introduce temporary passport controls for six months.

READ MORE: 'Forced to eat rotten pork': Hanover police probed over migrant abuse