​'Forced to eat rotten pork': Hanover police probed over migrant abuse
Published time: 19 May, 2015 14:14
Edited time: 26 Aug, 2015 11:45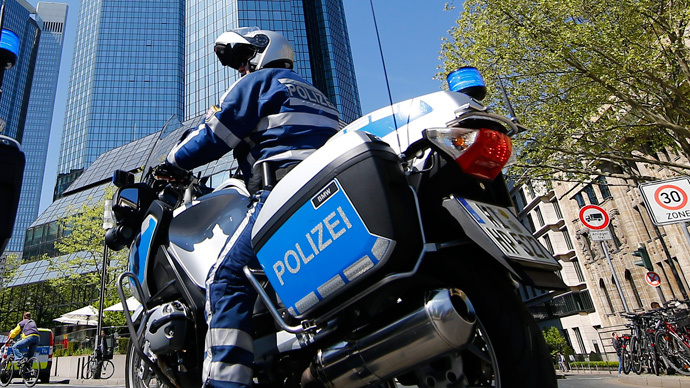 Prosecutors in the German city of Hanover are looking into accusations that federal police are involved in torturing migrants and documenting the incidents of violence in mobile phone photos and text messages.
The mistreatment first reported by the public radio and television network Norddeutscher Rundfunk (NDR) whichdescribedtwo incidents at a police station in Lower Saxony, included beating the men and force-feeding one with rotten pork - a forbidden food in Islam, even if fresh.
"We received a complaint last week that referred to assaults in a police department of the federal police," Attorney-General Thomas Klinge told NDR. Police has been sent to search the home and workstation of at least one accused officer, he said.
In March 2014, one of the officers allegedly tried to choke a refugee from Afghanistan after dragging him through the police station by his feet shackles.
He shared the details of his assault with his colleagues via mobile messenger WhatsApp, sending "I knocked him away. An Afghan. With prohibited entry [to Germany]. I stuck my finger in his nose. And he choked. It was funny. And I dragged him by the foot shackles through the station. It was great. He squealed like a pig. It was a gift from Allah," according to NDR exclusive report aired on Sunday.
Reportedly the Afghan man was detained for not carrying his ID papers.
About six months later a 19-year-old Moroccan was detained after travelling on a train without a ticket and carrying a small amount of marijuana. NDR reported that one of the officers bragged about having force-fed the young refugee with rotten pork off the floor.
"(An officer) heard him squeal like a pig," another WhatsApp message reportedly read. "Then the bastard gobbled up the rotten pork leftovers in the refrigerator. Off the floor."
Hannover: Flüchtlinge in Polizeigewahrsam misshandelt? http://t.co/1khxaXoUE1#Flüchtlinge

— tagesschau (@tagesschau) 17 мая 2015
The German human rights organization Pro Asyl demanded a broad investigation into the report calling it the evidence of "an appalling level of racism and contempt for human beings" by the Hanover federal police, Deutsche Welle cites.
The NDR report comes amid concern that hostility towards asylum seekers in Germany is only growing.
The United Nations published a report this month warning over growing support for racist and Islamophobic movements in Germany. The UN urged the government to take stronger measures against racist violence and discrimination.
"The Committee is greatly concerned at the proliferation and dissemination of racist ideas by certain political parties and movements and the lack of efficient measures taken to strongly sanction and deter such discourses and behaviors," the UN Committee on the Elimination of All Forms of Racial Discrimination said.