Iran ready to present proof of Turkey's oil trade with ISIS – Tehran official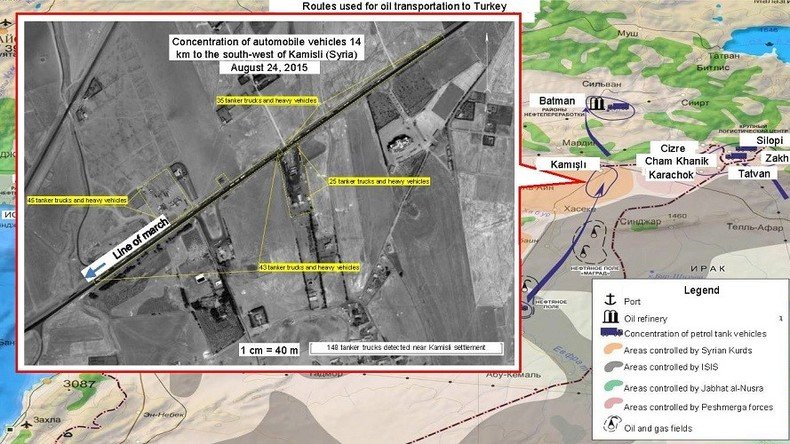 Iran has evidence of illegal oil trade between Turkey and Islamic State (IS, formerly ISIS/ISIL) – and is ready to deliver the information to Ankara and the public, a state official said. Tehran has gathered photos and video footage of oil trucks entering Turkey.
"If the government of Turkey is not informed of Daesh [derogatory term for IS] oil trade in the country, we are ready to put the information at its disposal," Iran's official Islamic Republic News Agency (IRNA) quoted Expediency Council Secretary Mohsen Rezaie as saying on Friday.
READ MORE: Russia presents proof of Turkey's role in ISIS oil trade
Rezaie elaborated that Iran is in possession of photo and video evidence of IS oil entering Turkey in trucks, adding that Iran is ready to broadcast the information.
"Soon important news will be brought to the information of the public about the removal of Takfiris and Daesh," he said. Rezaie also called on all countries fighting IS to concentrate on eradicating terrorism.
The comments were made as the official visited victims injured in Syria.
READ MORE: Map, images from Russian military show main routes of ISIS oil smuggling to Turkey
Earlier this week, the Russian Defense Ministry released maps and satellite imagery it said proved that Turkey is the main consumer of oil smuggled out of Syria and Iraq by IS. The ministry also claimed that the Turkish president and his family are involved in the criminal dealings.
Deputy Defense Minister Anatoly Antonov, who hosted the briefing, said: "A united team of criminals and Turkish elites, involved in stealing oil from its neighbors, is acting in the region. This oil is being supplied to Turkey on a large industrial scale via improvised pipelines composed of thousands of oil truck tankers."
READ MORE: 'Everyone knows what's going on': Istanbul residents on Turkey-ISIS oil trade
Turkish President Recep Tayyip Erdogan has denied Russia's accusations that Turkey is involved in oil dealings with Islamic State.
Meanwhile, many Turkish citizens question Erdogan's denial and appear not to be surprised by the evidence presented by Moscow.
RT's Harry Fear asked people on the streets of Istanbul what they made of the report presented by Russia's Defense Ministry.
"I believe that Erdogan and ISIS have some [contract] between them," one man said. Another Istanbul resident told RT that "the rumors have been circulating for a long time and everyone knows what's going on, but nothing has been done about it."
You can share this story on social media: