'Everyone knows what's going on': Istanbul residents on Turkey-ISIS oil trade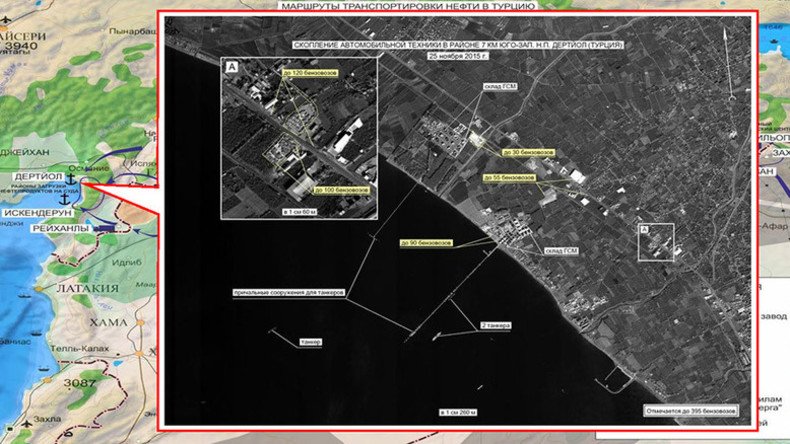 Turkish President Recep Tayyip Erdogan has adamantly denied Russian accusations of Turkey's oil dealings with Islamic State, yet ordinary Turks question his words and are not surprised by the evidence presented by Moscow.
RT's Harry Fear has asked people on the streets of Istanbul what they make of the report presented by the Russian Defense Ministry, which claims Erdogan and his family benefit from oil products smuggled by Islamic State (IS, formerly ISIS/ISIL) from Syrian and Iraqi territory. Erdogan earlier promised to step down if such claims are proven true.
"I believe that Erdogan and ISIS [have some contract between them]," one man said. Another Istanbul resident told RT that "the rumors have been circulating for a long time and everyone knows what's going on, but nothing has been done about it."
"Now Erdogan has to step down," he added.
Yet many are pessimistic about such a possibility, with one young man saying "I don't think he's going to resign. He's a dictator and loves being one."
Turkish mainstream media were reluctant to cover both the Russian Defense Ministry's revelations and Erdogan's dubious offer to resign. Sibel Gunes of the Turkish Journalists' Association explained that "the government created a restrictive climate for opposition journalists wanting to report in the dangerous border regions."
On Wednesday, the Russian Defense Ministry released maps and satellite imagery it said proves that Turkey is the main consumer of oil smuggled by IS from Syria and Iraq, and claimed that the Turkish president and his family are involved in criminal dealings.
Deputy Defense Minister Anatoly Antonov, who hosted the briefing, said: "A united team of criminals and Turkish elites, involved in stealing oil from its neighbors, is acting in the region. This oil is being supplied to Turkey on a large industrial scale via improvised pipelines composed of thousands of oil truck tankers."
Despite Erdogan's robust promise to step down in the event that the intelligence presented is real, Antonov stressed the Turkish president's resignation is not Russia's goal and "is for the people of Turkey to decide."
You can share this story on social media: