Café targeted in Paris attacks reopens its doors to public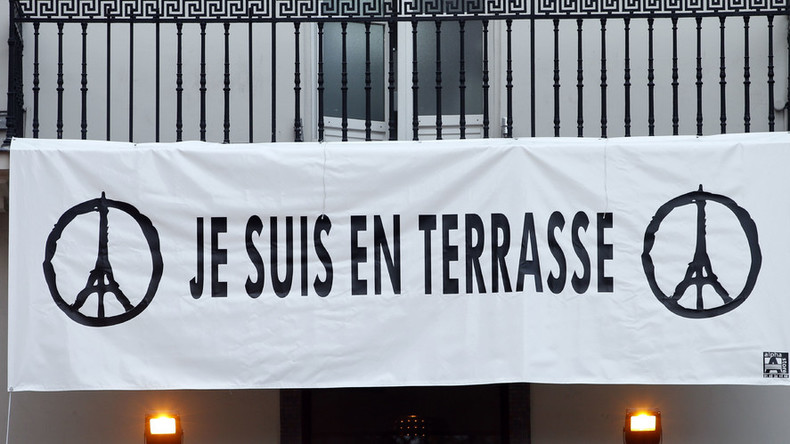 A cafe where five people were killed in the Paris attacks on November 13 has reopened its doors to the public after being closed for three weeks. It is the first of the targets to reopen after the attacks that left 130 people dead.
Café Bonne Bière reopened with a sign above its entrance reading "Je suis en terrasse," ("I am on the terrace"), a defiant message that Parisians have embraced since the attacks to show that they are not scared to be on the streets.
The cafe was one of seven sites attacked by terrorists acting on behalf of Islamic State (formerly ISIS/ISIL). Footage from the evening captured the aftermath of the attack. It had been covered in flowers and candles since the assault.
Owners Audrey Bily and Romain Debray replaced windows that had been shot through with bullet-holes, telling reporters at the opening: "It is time for us to gather together again, united, and to go forward in order not to forget."

A chalkboard outside the cafe offered condolences to the victim's families and thanked the emergency services.
Other locations involved in the attacks have also said they will reopen in the future. Restaurant Le Petit Cambodge, where 15 people were killed, posted to its Facebook: "Not to reopen would give in and concede a victory which will never be gained."

Owners of the Bataclan concert hall, where 89 people were killed, said they plan to open the venue by the end of 2016. Speaking to Le Monde, owners Olivier Poubelle and Jules Frutos said: "We are dead for the moment. But we need life," and "It is vital that the doors reopen."

Eagles of Death Metal, the band who were playing at the Bataclan on the night of the attacks, said in an interview with Vice that they want to be the first band to play the venue when it reopens.