Turkey skeptical about US proposal to close border 'under ISIS control'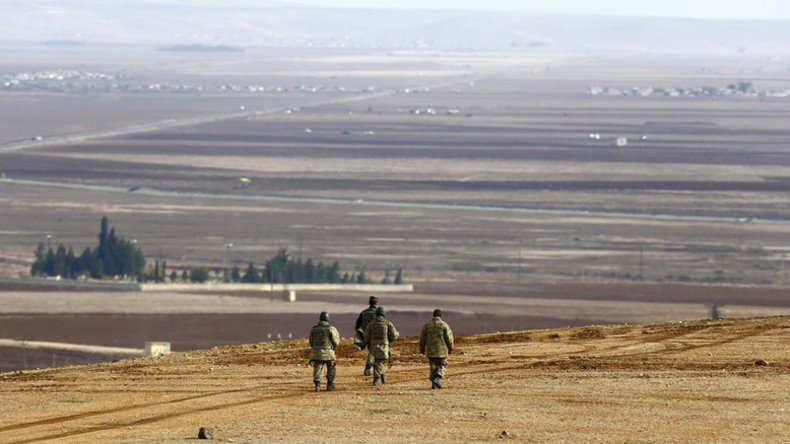 Amid Washington's mounting pressure on Ankara to seal its frontiers with Syria, Turkish Prime Minister Ahmed Davutoglu stated that closing the country's border with Syria is extremely difficult, despite the fact that most of it is "under Islamic State control."
"There is nothing more difficult than protecting a border on the other side of which there is no political authority. There is no functioning state system or counterpart administration on the other side," Davutoglu told a press conference Thursday. "At the moment, around 98 kilometers of our border appear to be under Daesh [an Arabic term for Islamic State] control," he added.
Davutoglu said the border cannot be closed given his country's "moral responsibility" to take refugees and also that there is "no one on the other side" to project it either.
"Keeping the entire border with Syria [closed] may come on the agenda as a project, but then what will you do about transiting refugees? We have a moral responsibility along this 911 kilometers-long border and it is accepting refugees," he said.
The PM also claimed his country had "paid the highest price for Daesh's terrorist activities," saying that "not having terrorists transition and any negative developments on the Turkey-Syria border are in Turkey's interest."
He insisted that Turkey has countermeasures in place. "In the past months, we have given orders to build physical barriers on the entire border and these physical barriers are being built. Control is maintained through signal systems, but beyond that we are conducting all kinds of works to eradicate Daesh from these 98 kilometers."
Turkey shares a long border with the neighboring Syria, swaths of which have been controlled by terrorist groups during the civil war.
Washington has been urging Ankara to seal off the stretch of the border with Syria currently used by ISIS for transportation of fighters and supplies into the Syrian war zone, the Wall Street Journal reported in November.
Pentagon officials estimated that it could take as many as "30,000 [troops] to seal the border on the Turkish side for a broader humanitarian mission. Cordoning off just one section alone could take 10,000 or more, one official estimated," the WSJ said.
On Wednesday, the Russian Defense Ministry released images and satellite intelligence proving the illegal oil supplies are being delivered across the Turkish-Syrian border on three main routes leading to Mediterranean ports, Batman oil refinery on the Turkish territory and a large transfer base in Turkey's Cizre, respectively. Russia claimed that those oil supplies widely benefit Turkish President Erdogan's closest relatives and help funding ISIS militants in Syria.
You can share this story on social media: