Moscow 'welcomes any effort to fight ISIS' as UK joins US-led bombing campaign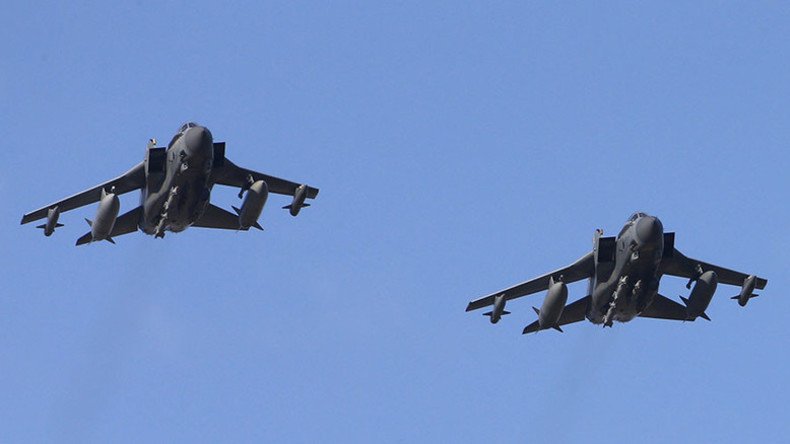 The Kremlin said it welcomed any extra help in the fight against terrorist group Islamic State after Britain started combat sorties in Syria. Moscow observed, however, that it is the only foreign party acting in Syria legitimately.
"We continue to welcome any effort aimed at fighting terrorism and Islamic State [IS, formerly ISIS/ISIL] in particular. We believe that if such efforts are coordinated as part of a single coalition, they would become more effective," said presidential spokesman Dmitry Peskov, commenting on British bombings on militants in Syria.
Earlier on Wednesday the British parliament voted to allow RAF launch combat missions targeting terrorist forces in Syria. British warplanes conducted the first strikes hours later, although the Ministry of Defence would not reveal details of the operation.
The UK acts as part of the US-led coalition fighting against IS, which has occupied parts of Iraq and Syria. Earlier British troops engaged the jihadists in Iraq on an invitation from Baghdad, but not in Syria, which issued no such request.
Russia is fighting against terrorists in Syria, but not in Iraq, and is doing so outside of the US-led effort. Moscow and Washington are at a conflict over how political transition in Syria should happen. The US and its allies say that no transition may happen unless Syrian President Bashar Assad steps down, claiming that he is no longer a legitimate representative of the Syrian people.
Moscow sees the Syrian Army as the force most capable of destroying terrorist groups in the country and that the government in Damascus speaks for a large portion of the Syrian population.
READ MORE: Russia arms Su-34s with air-to-air missiles in Syria for 1st time

The Russian campaign in Syria was launched on a request from that country's government, much like the US-led coalition effort in Iraq. Moscow does not engage targets in Iraq since it has neither a UN Security Council mandate nor an invitation from Baghdad to use force in Iraq. Nor has Russia expressed a desire to do so.
The US-led coalition attacks targets in Syria without a formal request from Damascus and no UNSC mandate, acting in violation of the international law, a point that Peskov reiterated in his comments.
LISTEN MORE:
You can share this story on social media: