ISIS video claims to show beheading of alleged 'Russian spy'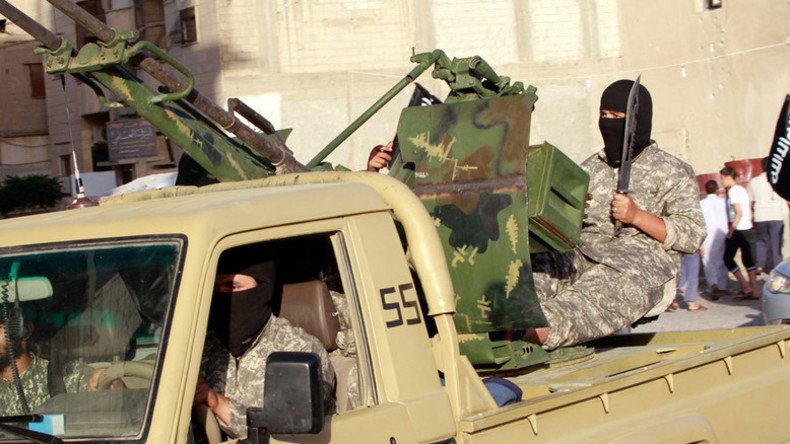 Islamic State has released a video online that, according to the terror group, shows the confession and beheading of a man claiming to have arrived in the caliphate through Turkey with an assignment from Russia's Security Service, the FSB.
READ MORE: Russia presents proof of Turkey's role in ISIS oil trade
The video, the authenticity of which couldn't be verified, shows a man in an orange jumpsuit filmed indoors.
He identifies himself as 23-year-old Magomed Khasiev from Gronzy in Russia's Republic of Chechnya.
The prisoner then gives details about his alleged recruitment by the FSB and described how he had managed to reach terrorist positions in Syria.
After receiving a foreign passport, "I departed from the Krasnodar airport [in Russia] to the city of Istanbul. In Istanbul, I was met by a person who is involved in trafficking people from Turkey to Islamic State. After spending a few days at his apartment – sometime around August 26, 2014 – I arrived on the territory of Islamic State," the person in the video says.
The man stressed that he was operating undercover in both Syria and Iraq, gathering information on Russian citizens fighting for IS terrorists, as ordered by the Russian Security Services.
In the final minutes, the video switches to an outdoor location where an Islamic State (IS, formerly ISIS/ISIL) militant threatens Russia and Vladimir Putin with attacks on Russian soil. The jihadist then appears to cut the prisoner's throat with a knife and behead him.
According to SITE monitoring group, the video came Raqqa province, which is Islamic State's main stronghold in Syria.
It is the first time IS terrorists have claimed to have taken a Russian hostage, despite Moscow not having reported any of its citizens as being kidnapped by the group.
The airstrikes, which have been conducted by Russia in Syria since September 30, have dealt a huge blow to Islamic State there.
The Russian Defense Ministry says that thousands of terrorist strongholds, arms depots, and other infrastructure have been destroyed.
READ MORE: 'Genocide of Yazidis': Booby-trapped grave with over 120 ISIS victims found in Iraq
According to the ministry, the Russian Air Forces have also decreased the group's income from its illegal oil trade by half – from $3 to $1.5 million per day.
Islamic State's main partner in the criminal business is Turkey, Moscow said on Wednesday, adding that Turkish President Recep Tayyip Erdogan and his family are involved.
Despite being part of the anti-ISIS US-led coalition, Ankara has been accused of unwillingness to fight the terrorists, with numerous reports accusing Turkey of being a hub for IS recruits and of supplying the jihadists with arms.
READ MORE: US-led coalition not striking ISIS oil trucks despite evidence - Russia's General Staff
You can share this story on social media: