'Genocide of Yazidis': Booby-trapped grave with over 120 ISIS victims found in Iraq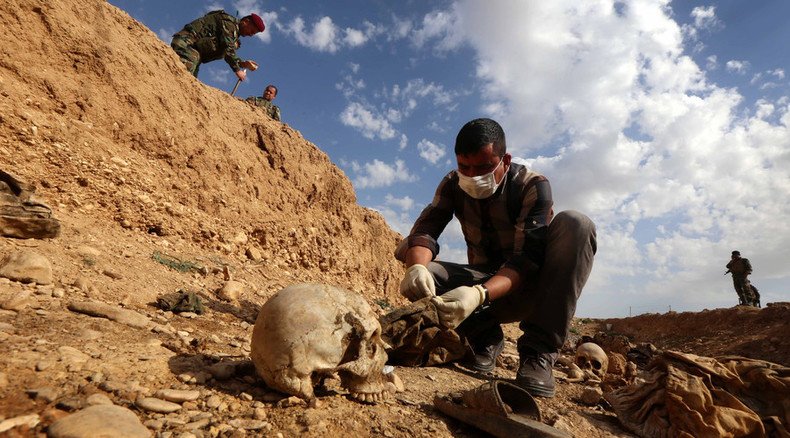 A mass grave containing the bodies of over 120 Islamic State terror victims has been discovered in northern Iraq. The execution site near the town of Sinjar was reportedly booby trapped with dozens of explosive devices.
Numerous bombs were found around the mass execution site of people who were most likely part of the Yazidi minority, which Islamic State (IS, formerly ISIS/ISIL) has targeted for years, Mahma Khalil, the official responsible for the area, told AFP.
According to the official and based on witness testimonies, the grave is estimated to be the final resting place of some 123 victims. Located some 10 kilometres (six miles) west of Sinjar, the site of gruesome atrocity is yet to be excavated. Khalil says the victims were not buried deeply as some of the remains surfaced following rains in the region. The booby-trapped grave has been being defused by bomb squads.
It is the sixth mass grave discovered near Sinjar since Iraqi and Kurdish forces recaptured the town from jihadists earlier this month. IS overran Sinjar in August last year, forcing thousands of Yazidis to flee to a mountain overlooking the town, where they were trapped by jihadists.
Islamic State systematically murdered and enslaved thousands of Yazidi minority members. Saving the Yazidis became the pretext for widening the US-led military campaign against ISIS in August last year.
Earlier this month, another mass grave found next to a town was discovered containing the remains of 80 women.
Speaking to the BBC, Khalil revealed that this was the biggest mass grave found so far. Unfortunately he expects more mass execution sites to be uncovered in the near future.
Calling IS atrocities in the region a "genocide of the Yazidis," Khalil appealed for international support in compiling evidence for the International Criminal Court concerning IS war crimes.
At the same time Khalil told the Kurdish Shafaq News that despite the liberation of Sinjar, not all residence are eager to return home, as they remain "uncertain" about the security situation. Another reason for their hesitation is the lack of government services.
"There is no place for those who committed a crime between us," he told the publication.
You can share this story on social media: