Mass grave of 80 Yazidi women executed by ISIS found in Sinjar, Iraq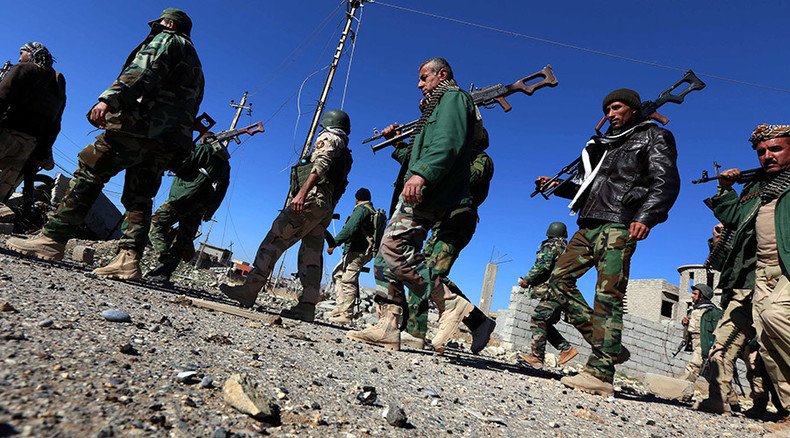 A mass grave with the remains of up to 80 Yazidi women, executed by Islamic State, has been discovered on the edge of Sinjar in Iraq. The UN says abuses against the Yazidi minority, who the jihadists deem devil-worshippers, may constitute an attempted genocide.
Officials found the site of the mass grave of young women enslaved by Islamic State (IS, formerly ISIS/ISIL). They claimed to have witnessed the execution of dozens of Yazidis before managing to escape.

According to a local council member, the grave yet to be excavated, is thought to contain the bodies of 78 women, aged from 40 to around 80.

"It seems that the [IS] terrorist members only wanted young girls to enslave," Miyasir Hajji told AFP. The jihadists have a reputation for using women as sex slaves - bought, sold and dumped.


The mayor of Sinjar and local Yazidis, who visited the site of the mass grave, told Reuters they saw clumps of hair, bones, money and keys, which they believed belonged to older women from the village of Kocho. The younger women were taken into sexual slavery, while the older ones were taken behind an institute in the Solagh area. Gunfire was heard shortly afterwards, according to locals who survived.

Badr Sleiman Taha, 24, from Kocho said his mother, aunt and grandmother were among those killed behind the institute.

"Death would have been better than what I felt when I saw that grave," Taha told Reuters by phone from Sinjar.

The mayor of Sinjar, Mahma Xelil, said the grave would be left undisturbed for experts to analyze the remains and collect evidence for a case to recognize the atrocities inflicted on the Yazidi community as genocide. Several mass Yazidi graves have already been unearthed in the area north of Sinjar Mountain.
IS overran Sinjar in August last year, forcing thousands of Yazidis to flee to a mountain overlooking the town, where they were trapped by the jihadists. Islamic State systematically murdered and enslaved thousands of Yazidi minority members, exposing fugitive civilians to extreme conditions of blazing heat and lack of water. These developments became the official reason for the beginning of the US-led military campaign against Islamic State on August 8, 2014. Liberating Sinjar proved to be a real challenge.
READ MORE: Kurds enter Iraqi Sinjar, raise flag, ISIS 'defeated & running' – reports
Kurdish forces retook Sinjar town on Friday in a two-day offensive, supported by airstrikes from the US-led coalition. According to the Kurdistan Region's Security council, 28 villages were liberated during "Operation Free Sinjar," with over 200 square kilometers freed from IS control. They also managed to cut one of the militant's main supply routes linking territory it holds in Iraq and Syria. Kurdish Peshmerga forces are currently working to clear bombs left by IS.

"Until now, we defused 45 bombs and a car bomb," Sulaiman Saeed, who works in explosives disposal, told AFP.

"Bombs are widespread in houses," he said, adding that some 20 tons of explosives were found in a bomb-making factory, while they also discovered 20 barrels of explosives.

Most of Iraq's Yazidi population is still living in camps in the Kurdistan region, and over 2,000 women are believed to remain in IS captivity.
You can share this story on social media: