Russia wants to stop ISIS' illegal oil trade – Churkin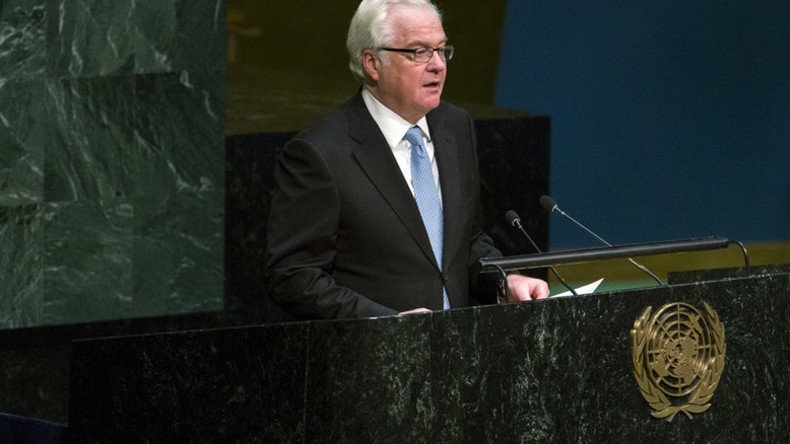 Russia is working with the UN Security Council on a document that would enforce stricter implementation of Resolution 2199, which aims to curb illegal oil trade with and by terrorist groups, Russian ambassador to the UN Vitaly Churkin told RIA Novosti.
The draft resolution intends to quash the financing of terrorist groups, including Islamic State (IS, formerly ISIS/ISIL) extremists.
"We are not happy with the way Resolution 2199, which was our initiative, is controlled and implemented. We want to toughen the whole procedure," Churkin said. "We are already discussing the text with some colleagues and I must say that so far there is not a lot of contention being expressed."
US Ambassador Samantha Power said that America has "a shared objective" with Russia on this, since it is also working towards bringing the financing of terrorism to a halt.
The new document is a follow-up to Russian-sponsored Resolution 2199, which was adopted by the UN on February 12 to put a stop to illicit oil deals with terrorist structures using the UN Security Council's sanctions toolkit.
READ MORE: Russia's initiative on targeting illegal oil trade by terrorists adopted
February's resolution "has become an integral part of efforts by the UN Security Council, with Russia's active involvement, to consolidate the international legal framework for countering the terrorist threat from ISIS and Jabhat al-Nusra," Dr Alexander Yakovenko, Russian Ambassador to the United Kingdom of Great Britain and Northern Ireland, wrote for RT. "Its urgency is prompted by the considerable revenues that the terrorists are receiving from trade in hydrocarbons from seized deposits in Syria and Iraq."
READ MORE: UN threatens sanctions on anyone trading oil with ISIS terrorists
More specifically, it bans all types of oil trade with IS and Jabhat al-Nusra. If such transactions are discovered, they are labeled as financial aid to terrorists and result in targeted sanctions being imposed by the Security Council against participating individuals or companies.
Back in July, the UN Security Council expressed "grave concern" over reports of oil trading with IS militant groups in Iraq and Syria. The statement came after IS seized control of oilfields in the area and was reportedly using the revenues to finance its nascent "state."
'Erdogan supporting ISIS, black oil market' – retired US army general
While Ambassador Churkin has proposed sanctioning states trading with IS terrorists, a retired US army general, believes that Churkin should be more specific in identifying the state actors involved in the illegal oil trade.
Retired US Army Major General Paul E. Vallely, who has recently been lobbying for the Syrian rebels to cooperate with Russia against Islamic State, as well as for Washington to take a more active role in the war on IS, says Turkish President Recep Tayyip Erdogan should be singled out as a "negative force" for supporting Islamic State's black market oil revenues.
While the rebels in eastern Syria where the oil fields are located "could align with certain forces that are there – the Russians, if they were so inclined to do so… the key is to destroy ISIS, and one of the initiatives that ambassador Churkin should be moving toward with the Security Council is Erdogan in Turkey," Vallely told RT.
Vallely claims he has witnessed the thriving Ankara-backed black market on the Turkish-Syrian border first hand.
"He [Erdogan] has been supporting ISIS since I was over there several years ago. I've met some of the black-marketeers along the Syrian border there in [Turkish] Hatay province, and so they're alive and well. But Erdogan is a problem, he really is, and if I was ambassador Churkin, not only would I propose something in the Security Council for cutting off the finances, but also doing some kind of action against Erdogan. He is a very, very negative force in that area."
The retired general, who has been advocating for arming the Syrian rebels, but also for bombing the IS tankers that the US-led coalition began targeting only recently – and after Russia's involvement in Syria – says he "applaud[s] Russia for taking the initiative, along with the French, to destroy those convoys," but points out that the cross-border oil trade should also be brought to a halt.
"Erdogan's got to be realistic there if he wants to stay in power, and, of course, he's continuing to move Turkey towards an Islamic state. There's going to be more protests in Turkey, so he's going to have a lot of problems. But they've got to move to shut down Turkey from supporting ISIS, and these cross-border oil deals that are going on with the black-marketeers," Vallely said.
At the same time, Vallely remained skeptical about Churkin receiving strong support at the UN, "because they are not very positive in working towards rubbing out and shutting down the radical Islamic terrorist groups."
You can share this story on social media: