Fears bomb behind blast near Istanbul subway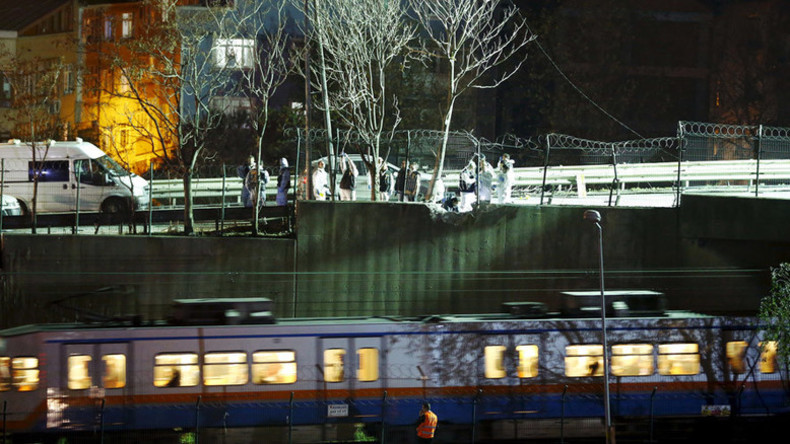 Five people were injured as a suspected pipe bomb exploded on an overpass near an Istanbul metro station in Istanbul's Bayrampasa on Tuesday, according to the head of the district.
The head of the Bayrampasa district, Atilla Aydiner, spoke live on A-Haber television soon after the incident Tuesday.
"Five of our citizens were injured when a pipe bomb left on barriers on the overpass exploded," Aydiner said.
There were conflicting reports about the number of casualties. Earlier, local media reported that one person was killed in the blast and another six people injured.
Initial reports suggested that the explosion was caused by a power transformer blowing up.
Social media users have posted various photos of people evacuating the subway station, while local media said that trains have been stopped at one of the stations.
The explosion was heard in several districts of Istanbul, residents of the city said on Twitter. Local media reported that fire services and ambulances were sent to the site of the incident.
Electricity was cut off in Bayrampasa and the surrounding district, according to HaberTürk TV.
Istanbul police said that the cause of the blast is still unknown, adding that an investigation into the incident has been launched, Reuters reported.
Bayrampasa is a suburban district located on the European side of Istanbul comprised of residential and industrial areas.
Turkey has been on alert since over 100 people were killed in two suicide blasts in Ankara in October. The terrorist attack was blamed on Islamic state militants. Turkey, a NATO member state, has been taking part in the US-led campaign against terrorists in the region.
READ MORE: Turkey foiled major 'Paris-style' attack in Istanbul – reports
The Kurdistan Workers Party (PKK), which has been fighting Ankara for autonomy in Turkey's mainly Kurdish southeast, has carried out carried out bombings in Istanbul in the past. Among the latest, PKK claimed responsibility for the bombing of an Istanbul police station which killed four on August 11.
You can share this story on social media: