Turkey foiled major 'Paris-style' attack in Istanbul – reports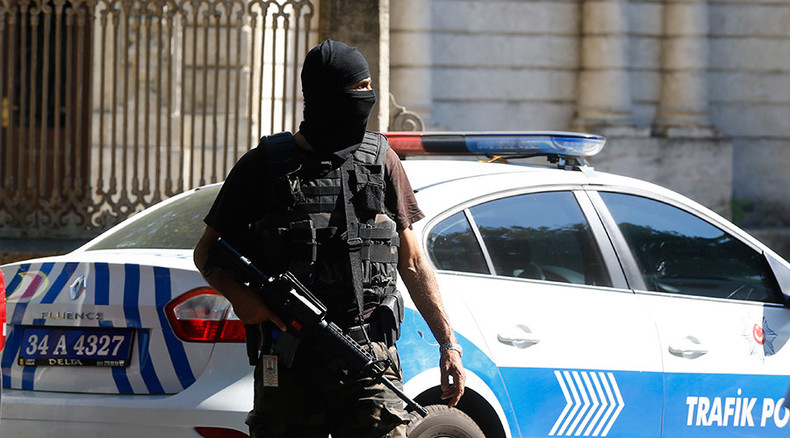 A terror cell, led by a British-born jihadist, who were arrested in Turkey last week, may have been planning a major attack in the country's largest city on the very same day as a terror spree rocked Paris, Turkish officials have claimed.
Five people were arrested in Istanbul last week, including a high-profile jihadist linked to the notorious Islamic State (IS, formerly ISIS/ISIL) militant known as "Jihadi John," who the US claims to have killed in a recent drone strike in Syria.
LIVE UPDATES: French police hunting suspect involved in Paris attacks
The man whose name is thought to be Aine Lesley Davis, a London-born British Muslim, could have been planning an attack in Istanbul in parallel with the slaughter that killed 129 people in Paris on Friday, Turkish officials alleged on Sunday on condition of anonymity.
"We believe they were planning an attack in Istanbul on the same day as the Paris attacks" on Friday, a Turkish official told AFP. "Initial investigation shows we foiled a major attack."
"We suspect there could have been a parallel attack with Paris, on the same day," another source told Reuters. "Right now, we're investigating whether they were planning an attack in Istanbul similar to the one in Paris."
The Turkish authorities are currently conducting an investigation to find any possible links. They are also trying to discover if the group caught in Turkey could have been involved in the Paris attacks.
"Davis is a figure with key responsibilities within Islamic State and he wasn't caught alone. He was within a group," the official added. "All possibilities are being evaluated."
Davis, along with four other militants, is believed to have crossed into Turkey from Syria on an unspecified date. Previously he has been guarding foreign hostages taken by IS. According to reports, he could have been closely connected to Mohammed Emwazi, known otherwise as "Jihadi John."
Emwazi was visible in a series of videos showing the execution of US and British prisoners. The recent airstrike allegedly targeted Emwazi's vehicle near the Syrian city of Raqqa – IS's self-proclaimed capital. The Pentagon says it is "reasonably certain" that the IS member has been killed in the drone strike.