Pentagon supplying Kiev military with 'junk' Humvees from 1st Gulf War era – report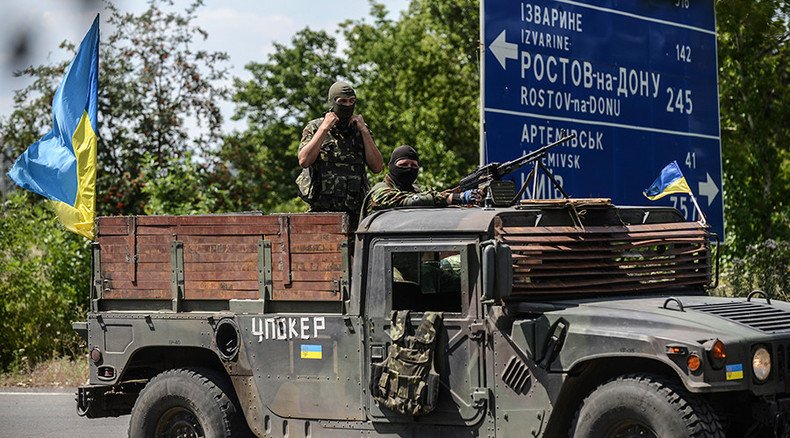 Ukrainian soldiers' elation about receiving military kit from the Pentagon has reportedly been short-lived. Some of the supplied Humvee vehicles probably witnessed the Desert Storm operation in 1991, the Washington Post found out.
The paper checked serial numbers on some of the vehicles and it appeared that they date from late 1980s and early 1990s. In fact, some of them are truly exotic, being equipped with doors and windows made of plastic. They may be convenient when you drive in the desert sand under scorching sun, but Ukraine has real winter time, with snow and temperatures well below zero Celsius.
Another problem with the Ukrainian Humvees is their tires. They are old and crumble, very likely because they have spent a lot of time at some military facility. The tires are also hard to find in Ukraine, and are pricey. At $1,000 per tire, the price tag is leaving Humvees stranded.
It was earlier reported by Ukraine's autoconsulting.com.ua website that Pentagon-supplied Humvees were powered with truly American 6.2-6.5 liter engines, powerful yet fuel-thirsty. These engines consume about 20 liters per 100 kilometers, which – while being small potatoes for the Pentagon – is a big deal for Kiev's chronically underfunded troops.
The Washington Post cited Pentagon spokesman Lieut. Col. Joe Sowers, who said in an e-mail that the US continues sending equipment and training Kiev's troops "to help Ukraine better monitor and secure its border, operate more safely and effectively, and preserve and enforce its territorial integrity."
Ukrainian servicemen, on condition of anonymity, expressed their dissatisfaction with the American equipment they are receiving.
"If the Americans are going to send us equipment, don't send us secondhand stuff," a Ukrainian special forces commander told the Post.
An anonymous American official explained the low quality of American military aid with Washington's haste to help and a lack of funding.
"We wanted to get things there as fast as possible and we had no money appropriated for this crisis," the official told the Post.
Another 100 Humvees of "similar vintage" have been authorized for delivery to Ukraine as part of the US military's program for transferring extra equipment "as is" to its allies.
An unnamed Pentagon official admitted to the Post that this means "the stuff that's sitting around somewhere that no service can use.
"In some cases Humvees might be provided … for spare parts. They're not good enough to drive, but you can tear them apart and cannibalize [them]," the official said.
You can share this story on social media: