Hijab for hair: Swedish painters asked to change shopping mall mural
A shopping center in Sweden has made a youth group paint over a hijab on a mural which had been ordered by the mall itself. The painters had to hide the hijab by spraying on hair.
The management of the Burlövs shopping center, just outside of Malmö, commissioned a painting from two local youth groups, UNITY Burlov, and Ungdomsgruppen Burlov, with the mural aimed at reflecting local diversity.
"We want to represent people who live in this town, and we have many girls wearing hijab. And we just want everyone to feel welcome," Ida Tadic, one of the artists, told RT.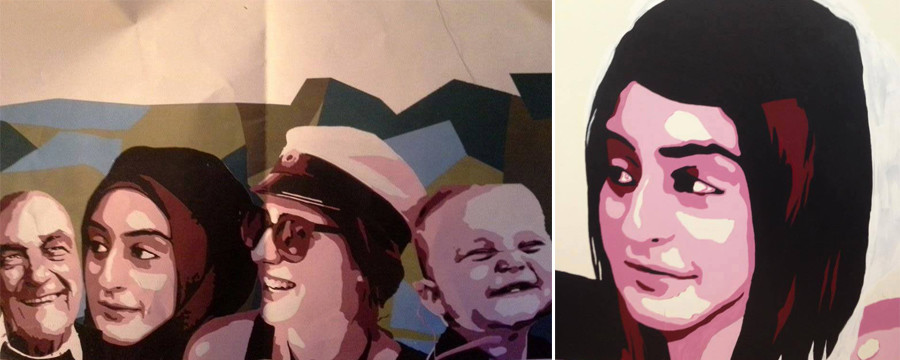 However, when the hijab was drawn the group that painted that mural was summoned for a meeting and told that the Muslim headwear couldn't be there, as the Burlövs mall is a secular place.
"We were really sad and frustrated because we put so much work into this, and so much love," Tadic said to RT.
"It's so horrible you almost can't believe it's true. What kind of message are you sending to customers? How can you play into the hands of racists in such a disgusting way," Pia Jönsson, whose husband Magnus Heberlein works for a local anti-racism group, said in a post on Facebook.

"The young people are angry and sad. They have grown up in this municipality, and are proud of its diversity and want to show it off as something beautiful. But they have been trampled on," Jönsson added.
Heberlein echoed his wife's concerns, saying that it's "very upsetting to censor young people's work in this way," speaking to the local broadcaster SVT News Skåne
"We want to promote solidarity and cohesion, and these young people want to emphasize that everyone has a place and will be accommodated here," Heberlein added.
The public response wasn't so unambiguous, though, the young artists told RT.
"We had a couple of people that came with very harsh criticism, saying that I was wrong to have a hijab on the wall, as it's religious. Also, we got messages from people saying that they don't want terrorists on their walls."
READ MORE: Colleges are providing costume consultants, flowcharts for Halloween sensitivity
The shopping center had to apologize for the incident.
"We apologize that a mural of a woman in a hijab was considered a religious symbol and was therefore altered," Grosvenor Fund Management, the owner of the center, wrote in a press release.
"That the picture was changed was unfortunate. For us it is important to welcome all customers regardless of their religion, ethnicity or sex."
The youth groups repainted the hijab afterwards, with Pia Jönsson calling the move "a victory for democracy."
"We accepted their apologies, but it doesn't feel right that they [acted] in such a way," artist Tadic told RT.
You can share this story on social media: