Arabic graffiti found on passenger jets at French airports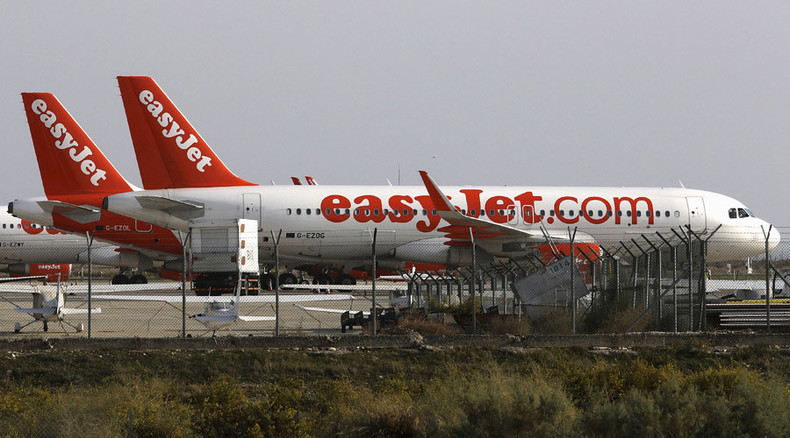 Arabic graffiti inscriptions, with some reading "Allahu Akbar," have been discovered in the past weeks on a number of EasyJet flights docked in France, local media reported. Spanish airline Vueling also suffered a similar incident.
At least five cases were recorded at the airports in Lyon and at Charles de Gaulle in Paris, according to a police source, La Tribune reported.
Investigators believe that that these inscriptions were written before the arrival of the aircraft in France.
An inscription reading "Allahu Akbar" was found on the fuel door of an Easyjet aircraft at Charles de Gaulle Airport on November 24, an airport source told the media. The flight had arrived the day before from Budapest, Hungary, and the inscription was erased before any passengers boarded the plane, the source added.
The same inscription was also found two days earlier, also on board the British company's plane, written on an access hatch to the cargo hold, while the EasyJet plane was stationed in Lyon. That plane came from Marrakesh, Morocco.
Spanish airline Vueling also reported a similar incident in on November 19. Two Arabic inscriptions were discovered on board, prompting evacuation of 157 passengers on board over possible terrorist threat.
READ MORE: France bans 1,000 people from entering since Paris attacks
A source close to the investigation told La Tribune, that the graffiti are "not a phenomenon linked to the attacks" in Paris that killed over 130 people on November 13. It added that this has been happening for months on a number of airlines including EasyJet.
The British company, which serves 17 airports in France, acknowledged that a "small number" of graffiti in Arabic had been discovered in the "last two weeks," according to AFP.
"Our security team is used to assess any potential threat." These graffiti were not "considered a security problem both by us and by the authorities," company said.
You can share this story on social media: