Tsipras blasts 'mercurial' Turkish pilots & air defense budgets amid ground refugee crisis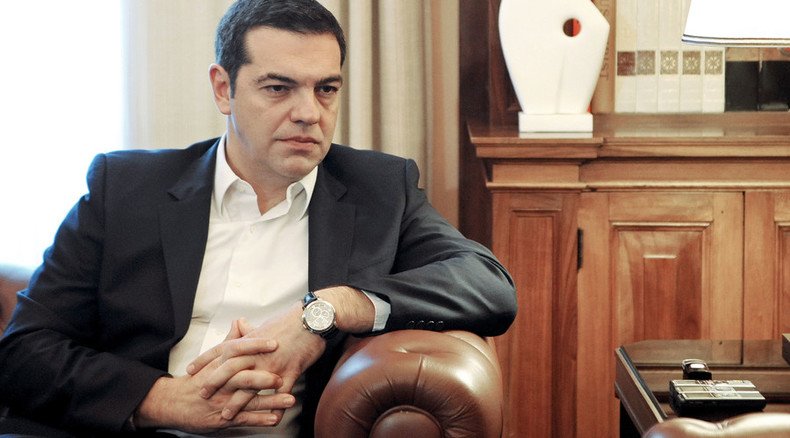 As EU leaders met with the Turkish PM to finalize a €3 billion ($3.18bn) deal on easing the Syrian refugee crisis, his Greek counterpart criticized Turkey's "mercurial" pilots for airspace violations that cost billions but in no way help to tackle people-smuggling through borders on the ground.
Alexis Tsipras took to Twitter to point out that it was ironic that while having billions of dollars worth of modern technology in the air, countries can't resolve the issue of people-smuggling through uncontrolled borders on the ground.
READ MORE: Turkey to help EU stem migrant crisis for €3bn and membership talks
In a series of Tweets addressed to Turkish PM Ahmed Davutoglu, the Greek Prime Minister first of all noted that unlike their "mercurial" Turkish counterparts, Greek military pilots don't simply shoot down the planes that regularly violate the Greek airspace.
"Fortunately our pilots are not as mercurial as yours against the Russians #EUTurkey," Alexis Tsipras wrote in his first tweet.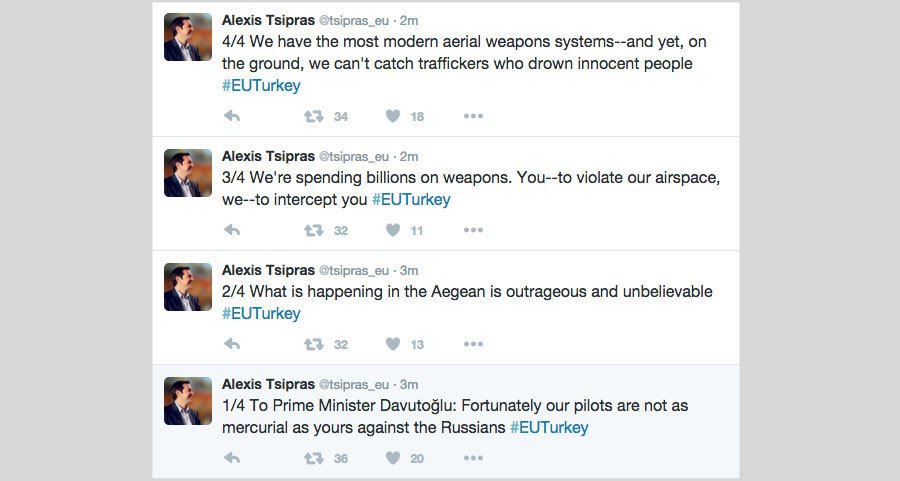 Tsipras was apparently referring to the Russian Su-24 bomber that Ankara claims was shot down for violating its national airspace for "17 seconds." However according to the Russian defense ministry, radar data and the survived pilot's accounts, it was the Turkish jet that briefly entered Syrian airspace to attack the bomber during its return from an anti-terrorist raid.
"What is happening in the Aegean is outrageous and unbelievable #EUTurkey," Tsipras wrote in part two of his message both in his English and Greek accounts. "We're spending billions on weapons. You – to violate our airspace, we – to intercept you #EUTurkey."
According to the latest data from the Greek military, Turkey's jets violated its airspace 2,244 times in 2014. By October of this year, Turkish planes had made 1,443 intrusions. In response to Ankara's "provocation" and "backstabbing",the Russian military deployed an S-400 air defense system to Syria – after which Turkey has reportedly halted all violations of both Syrian and Greek airspaces.
Tsipras wondered why Turkey, which spent $22 billion on defense in 2014, according to the Stockholm International Peace Research Institute, wastes so much money on patrolling and protecting its airspace if it cannot even manage the migrant flow through its borders.
"We have the most modern aerial weapons systems – and yet, on the ground, we can't catch traffickers who drown innocent people," said the last message on Tsipras' account.
The series of tweets were posted on Tsipras's official English language account, but for reasons unknown were deleted shortly after publication. The official's Greek language account however still features same message directed to Davutoglu.
Still the tirade caught the intended recipient's attention with the Turkish PM responding that the comments were "hardly in tune with the spirit of the day."
Comments on pilots by @atsipras seem hardly in tune with the spirit of the day. Alexis: let us focus on our positive agenda.

— Ahmet Davutoğlu (@Ahmet_Davutoglu) November 29, 2015
Hours after the initial posts and shortly following Davutoglu's reaction, another tweet on Tsipras' Greek page said: "We are in the same neighborhood and must speak with honesty so we can arrive at solutions."
#EUTurkey We are in the same neighbourhood and we have to talk honesty so we can reach solutions.

— PrimeMinisterGR (@PrimeministerGR) November 29, 2015
You can share this story on social media: