France puts 24 activists under house arrest amid climate summit security buildup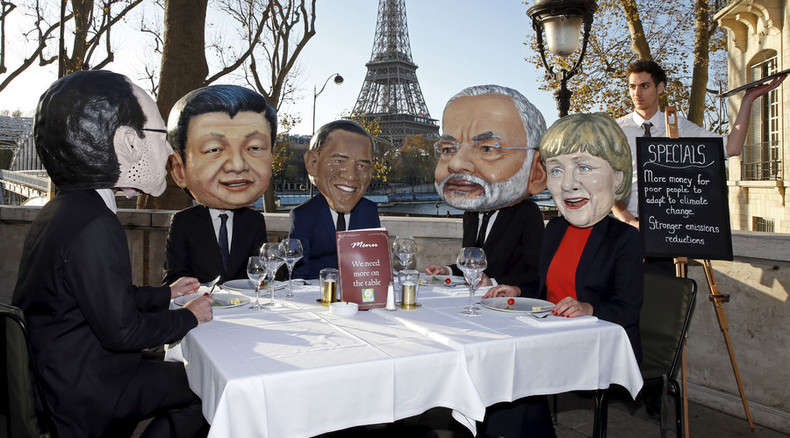 At least 24 environmental activists have been placed under house arrest to avoid violent provocations while Paris is hosting a high-profile United Nations climate conference (COP21) amid an ongoing state of emergency and following bloody terrorist attacks.
"These 24 people have been placed under house arrest because they have been violent during demonstrations in the past and because they have said they would not respect the state of emergency," French Interior Minister Bernard Cazeneuve announced Saturday.
The UN climate meeting is taking place in Paris from November 30 to December 11 prompting unprecedented security levels. The environmentalists placed under house arrests are to remain in their home towns and report to the police three times a day. They will also be required to follow a nightly curfew until the COP21 concludes.
Under the state of emergency, imposed by President Francois Hollande in wake of Paris attacks earlier this month, all major public gatherings are banned. Major public rallies planned this weekend were canceled.
Instead, environmental activists are focusing their campaign on organizing more than 2,000 climate events in major cities around the world.
But despite the ban, French activists plan to organize a human chain including about 3,400 people stretching across 3 km in central Paris from the Place de la Republique to Place de la Nation.
"This is a moment for the whole world to join hands," said Iain Keith, one of the organizers with Avaaz organization.
"This is not civil disobedience," said Alix Mazounie of French Climate Action Network, adding that the chain should not violate the state of emergency, as activists plan for a peaceful event that will not disturb the traffic.
Other environmentalists refusing or unable to come to Paris have sent 10,000 shoes to form a big pile as a sign of solidarity. Organizers claimed even a pair of Pope Francis shoes have been sent by the Vatican.
Meanwhile President Hollande met with environmental groups in the Elysee Palace. Greenpeace said it was "disappointed" over the way the state of emergencies interferes with the freedom of assembly, as France's political leadership would "choose to enable sporting events, trade exhibitions and other arts and culture events to go ahead, but with such a clamp down on the space for the biggest issue humanity faces".
As 40,000 delegates in addition to some 3,000 journalists descend on Paris to attend the global climate conference, 120,000 police and army personnel will be keeping the streets of the capital safe as France remains on high alert.
Some 15,600 police officers will be on duty at the Ile-de-France district which is hosting the conference that will see 152 heads of state and governments come together to find an agreement on reducing global greenhouse gas emissions beyond 2020.
You can share this story on social media: