Turkey risks provoking next world war – Iraq's Vice President Maliki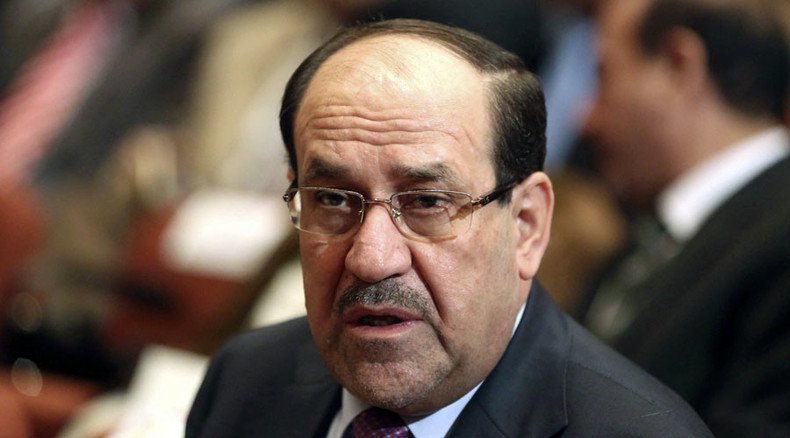 Turkey could bring the world to the brink of the next global conflict, Iraq's vice President Nuri al-Maliki said in the wake of the downing of a Russian bomber by Turkish air forces.
"Erdogan's double standards and aggressive policies are threatening a new world war," al-Maliki said in a statement as he criticized the policies of the Turkish president, Recep Tayyip Erdogan, AFP reported.
The Iraqi politician, who is a former prime minister of the country, also accused Turkey's leader of hypocrisy as he commented on Turkey's claims of a short violation of Turkish airspace by the Russian warplane which was downed by the country's air forces.
"Erdogan claims that a Russian aircraft entered Turkey's airspace for a few seconds, forgetting that its own planes violate Iraqi and Syrian airspace every day," al-Maliki said, as quoted by AFP.
Iraq has repeatedly accused Turkey of aiding the rise of terrorist group Islamic State. However, it is not the only country that has lashed out at Turkish policies following the incident with the downed Russian military aircraft.
The incident has also provoked a wave of indignation in Greece, which claimed that Turkish warplanes violated Greek airspace almost on a regular basis with 2,244 breaches in 2014 alone.
Other members of the international community have also voiced their criticism of Turkey's actions and support for Russia. Some of them also alleged that such actions serve as evidence of Turkey's ties with Islamic State.
"Sometimes one may suspect that Turkey has informal contacts with Islamic State (IS, formerly ISIS/ISIL). Considering that the Russian Air Force is fighting IS, the attack appears to be a too radical measure…" Czech President Milos Zeman told national media, while Roberto Calderoli, one of the leading members of Italy's right wing Northern League (Lega Nord) party, even claimed that "Turkey has officially entered the war on the side of ISIL" by downing the Russian bomber.
Turkey was also sharply criticized by French, Cyprian, Syrian and Armenian officials.
READ MORE: 'Well-staged shot in back': Intl community slams Turkey's attack on Russian jet
Immediately after the incident that took place on Tuesday, Russian President Vladimir Putin called it "a stab in the back delivered by accomplices of the terrorists." Putin also said that Russia was well aware of Turkey's oil business with Islamic State.
"IS makes big money, hundreds of millions or even billions of dollars, from selling oil. In addition they are protected by the military of an entire nation," he said.
Russian bomber SU-24M was hit by a missile fired by a Turkish F-16 fighter jet about a kilometer from Turkey's border and crashed four kilometers from the border.
In a letter to the UN Security Council, Turkey said that it downed the Russian bomber in Turkish airspace after the aircraft violated it for 17 seconds. The Turkish side said that it issued 10 warnings in the space of five minutes as the plane approached the country's territory, Reuters reported.
The US supported Turkey's claims. Pentagon spokesman Peter Cook said at a news briefing on Wednesday that the US-led coalition headquarters "heard" Turkey's warning to the Russian bomber.
However, the navigator of the downed Russian plane, Konstantin Murakhtin, denied Ankara's assertions both concerning the warning to the Russian pilots and the violation of the Turkish airspace by the bomber.
"It's impossible that we violated their airspace even for a second," Konstantin Murakhtin told RT and other Russian media. "We were flying at an altitude of 6,000 meters in completely clear weather, and I had total control of our flight path throughout."
"In actual fact, there were no warnings at all. Neither through the radio, nor visually, so we did not at any point adjust our course," he added.
The Russian Ministry of Defense also denied any communication attempts on behalf of Turkey before the incident.
You can share this story on social media: