Hollande heads for Moscow to discuss anti-ISIS efforts after Paris attacks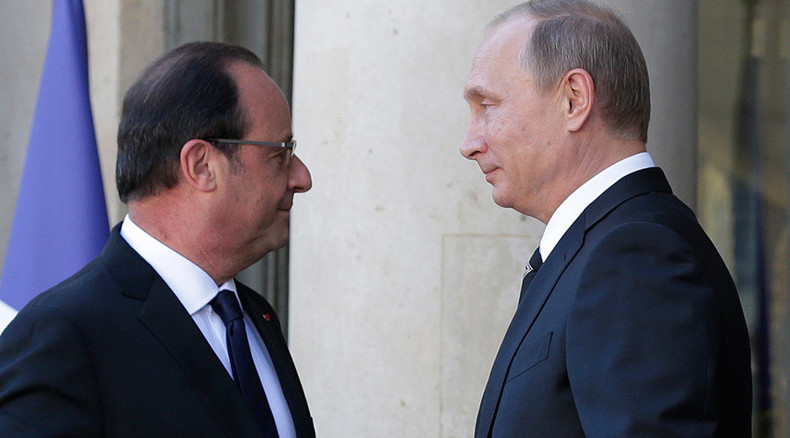 French leader Francois Hollande will meet with Russia's Vladimir Putin on Thursday to discuss the joint fight against Islamic State. Options include shutting the Turkish-Syrian border to halt terrorist supplies and setting up a joint HQ for anti-ISIS forces.
Despite strained relationships between Russia and the West, Hollande aims to secure Moscow's assistance in the fight against the Islamic State (IS, formerly ISIS/ISIL). It is the main concern for France after terror attacks in Paris on November 13 that left at least 130 dead and many more injured.
Earlier on Thursday, President Hollande said he hopes France will be able to join forces with Russia against the common threat.
"I will say to Vladimir Putin we must act against ISIS altogether. We must deploy our forces to destroy them, and surely we must coordinate our efforts," he told press conference in Berlin after meeting with German Chancellor Angela Merkel.
The Kremlin's press service has confirmed in a statement that "the leaders will discuss combatting the terror threat, including coordination in fight against Islamic State as well as some current international issues and bilateral ties."
The main option that will be reportedly discussed is to close the Syrian-Turkish border to stop the reinforcement of terrorists, a move proposed by Paris shortly after the downing of a Russian military jet by the Turkish Air Force.
Moscow says it will support the French proposal and is ready to take immediate measures. Russian Foreign Minister Sergey Lavrov said on Wednesday he hopes "President Hollande will tell us about the details on Thursday, and we believe we actually suppress terrorist threats in Syria by closing this border," RIA Novosti reports.
According to Russian Ambassador to France Alexander Orlov, Hollande and Putin will also discuss setting up a unified HQ that would bring together Russia, France, the US and all countries interested in joining the anti-IS coalition, including Turkey, "if it wants to."
READ MORE: Hollande to tell Obama Europe can't wait for US war of attrition with ISIS to succeed – report
You can share this story on social media: