Scissor-wielding Palestinian teens attack 70yo man in Jerusalem, thinking he is Israeli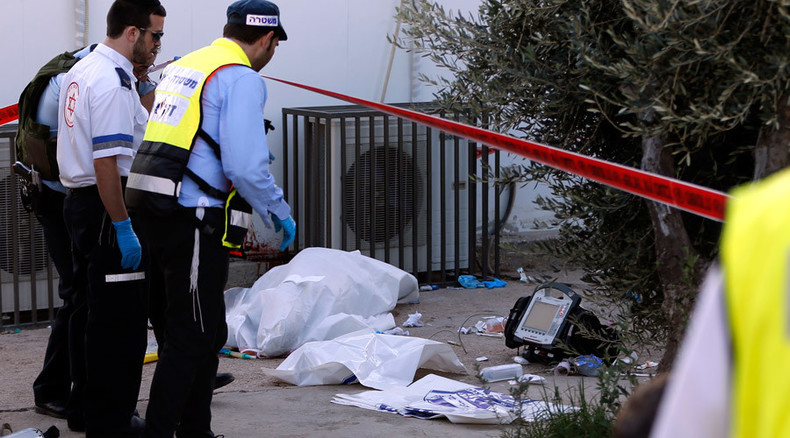 Several stabbing attacks against Israelis occurred in and around Jerusalem Monday. In one instance, two Palestinian girls with scissors wounded a 70-year-old Palestinian man, thinking he was Israeli. One of the girls was killed by police.
The two girls, aged 14 and 16, stabbed the man with two pairs of scissors on Jaffa Road, a main thoroughfare between East and West Jerusalem. The attack caused wounds to the victim's head and back.
The 16-year-old attacker was shot and killed by an Israeli police officer, while her 14-year-old accomplice was shot and wounded. Police said the two girls were related.
Israeli police spokeswoman Luba Samri said in a statement that the officer ordered the girls to halt their attack, and shot them when they came towards him. The statement did not say how close the girls had come to the officer.
A 27-year-old bystander was lightly wounded in the attack, apparently from bullet shrapnel, police said, according to AP.
Soon after the stabbing, a Palestinian rammed his car into a pedestrian near a settlement in a northern area of the West Bank, the Israeli military said, adding that the civilian was wounded and evacuated to hospital while the attacker fled.
WARNING: GRAPHIC VIDEO OF SCISSOR ATTACK AND POLICE RESPONSE
Just hours later, in the afternoon, an Israeli man was stabbed to death at a gas station on Route 443, close to Modi'in in the West Bank, The Times of Israel reported. Paramedics attempted to revive the 18-year-old victim, but were forced to declare him dead at the scene.
An Israeli woman was also injured in the stabbing and evacuated to Shaare Tzedek Medical Center.
"A young man… was lying on the ground unconscious, with stab wounds to the upper body, on the highway next to the gas station. Nearby, there was a young woman… approximately 20 years old, with stab wounds to her limbs. We gave both medical treatment on the scene," MDA medic Yitzchak Aryeh Goldfarb said.
In a separate incident, another Israeli woman was injured when her car was hit by gunfire from security forces.
Earlier Monday, a Palestinian man armed with a knife was shot and killed as he approached IDF soldiers near a West Bank junction.
The shooting happened at the same junction where an Arab woman had attempted to stab Israelis on Sunday, police said. On that occasion, the woman was run over by an Israeli who had reportedly seen her attempting to stab an Israeli girl standing at a bus stop. She was subsequently shot by security forces at the scene.
Monday's events come just one day before US Secretary of State John Kerry is due to visit Israel and the Palestinian territories to discuss ways to stem the violence in the region.
The attacks are the latest in a two-month spate of attacks that have erupted in Jerusalem over tensions surrounding a shared holy site known as al-Aqsa mosque to Muslims and Temple Mount to Jews.
Eighteen Israelis have been killed, mostly in stabbings, since mid-September. Eighty-eight Palestinians have been reported killed by Israeli fire. Of those, 56 are said by Israeli to have been attackers. The rest were killed in clashes with Israeli security forces.