Working permits of 'Palestinian terrorists' families' to be revoked – Netanyahu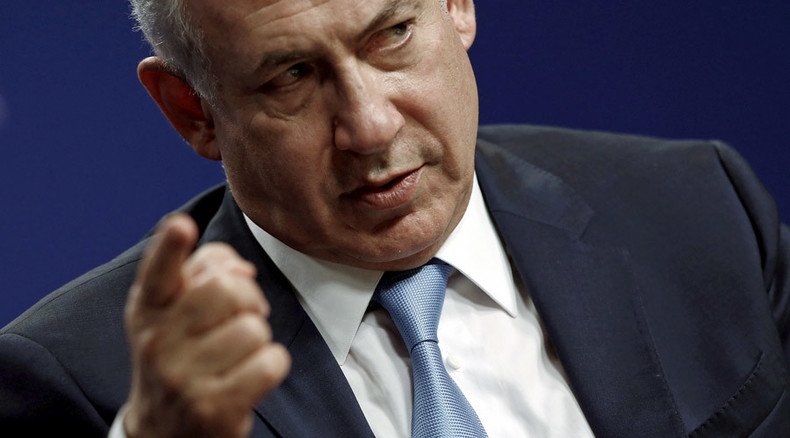 Israel will revoke the work permits of "terrorist" Palestinians' family members, Israeli Prime Minister Benjamin Netanjahu said, adding that Israel will resort to harsher measures to stop the ongoing wave of violence.
READ MORE: Scissor-wielding Palestinian teens attack 70yo man in Jerusalem, thinking he is Israeli
"A family knows that it has in its midst someone who is extreme or someone liable to attack, and a family like that does not have the right to work in Israel," Netanyahu said during his visit to the Gush Etzion Junction, which has witnessed a number of attacks in recent weeks, Israeli media network Arutz Sheva reported.
The Prime Minister said that Israel will resort to harsh new measures to curb the ongoing Palestinian uprising.
"We need to carry out additional actions to counter what [threats] do exist," Netanyahu said.
"There are no restrictions on the activities of the IDF and the security forces; on the contrary – there's full support, and this is important. There are no limits to our offensive," he added.
One of the extra measures proposed by Netanyahu is the checking of every Palestinian car which uses the main roads and to construct bypass roads for Palestinians – for example, around the Gush Etzion Junction.
He also promised to deal with incitement on social media using "various means" but did not go into further details.
Netanyahu additionally addressed criticism from Gush Etzion residents who have accused the government of not doing enough to ensure security.
"First of all, on the offensive end, we're entering everywhere. We're entering [Palestinian Authority] villages, we're entering towns, we're entering homes, and conducting widespread arrests," Netanyahu said.
"Defensive Shield [an Israeli military operation against Palestine in 2002 at the time of the Second Intifada] brought us the freedom of action that exists now, and we use it every night, every day to take action against terror cells or programs, against terrorists, against weapons caches, and the result of course is what we knew then – hundreds of deaths per year as a result of terrorists armed with explosive belts and other weapons – and that we don't have, are doing everything to combat that," he added.
Netanyahu also expressed his condolences to the family of a 21-year-old woman stabbed to death on Sunday in Gush Etzion.
"I wish to send condolences to the family of Hadar Buchris of blessed memory, who was murdered here yesterday," he said.
Along with the murder at the Gush Etzion Junction, Sunday witnessed two more Palestinian attacks on Israelis. All three assailants were shot dead while one more Israeli was lightly wounded.
Monday witnessed several more attacks. A Palestinian stabbed two Israelis at a petrol station in the West Bank. One of the victims died and the assailant was shot dead by police. One more attack occurred in Jerusalem when two Palestinian girls stabbed and slightly wounded an elderly man with scissors. Both attackers were shot by a policeman, one of them fatally.
The new wave of violence erupted at the beginning of October when Israel tried to restrict access to the Al-Aqsa Mosque in the Old City of Jerusalem. Since then, least 83 Palestinians have been killed, most of whom are said to have been perpetrators of violence, as well as 18 Israelis and an American student, according to Reuters.
You can share this story on social media: