China used flamethrowers to lure terrorists out of cave - military daily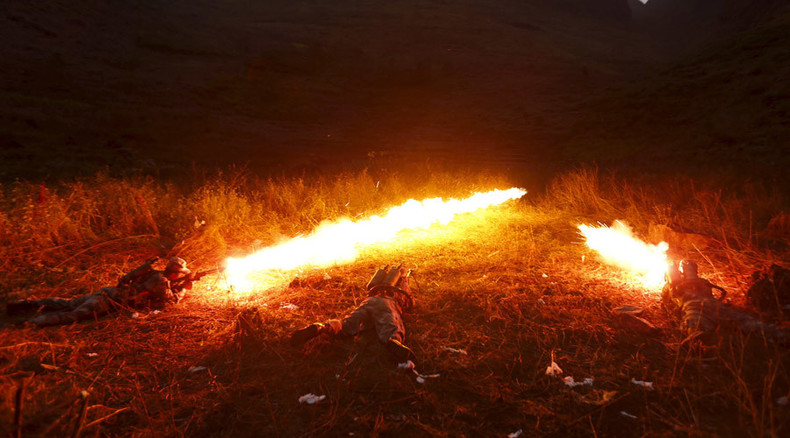 The Chinese Army resorted to a flamethrower to weed out terrorists hiding in a cave in the Xinjiang region, an official military newspaper has revealed. The army first used flash grenades and tear gas, but when this failed, they turned to a more extreme measure.
Beijing referred to the terrorists as 'foreign-led extremists' who had been sheltering in the country's troubled western region. The Chinese military said they were responsible for a deadly attack which killed 16 coal mine workers in Aksu in September.
The People's Liberation Army (PLA) Daily said that 28 members of the militant group were killed after security forces had followed the attackers into the mountains "like eagles discovering their prey."
The publication said that the army had tried to force the terrorists out by using stun grenades and tear gas. However, when this failed, a senior officer said: "Use the flamethrower."
The PLA Daily mentioned that the militants came out of the cave brandishing knives and that they were then "completely annihilated."
China says it is suffering a real terrorist threat in the Xinjiang region, which borders central Asia, and says it is important to deal with militants in the fight against global terrorism.
This is not the first time Chinese forces have been called in to use flamethrowers against an 'aggressive' force. The PLA was previously called in to deal with a hornets' nest, as the insects were terrorizing a village.
A few blasts of fire from the flamethrowers were enough to deal with the giant nest, which was some 30 meters off the ground and impossible to dispose of manually.