Scientists hope 'test-tube' calf can save northern white rhinos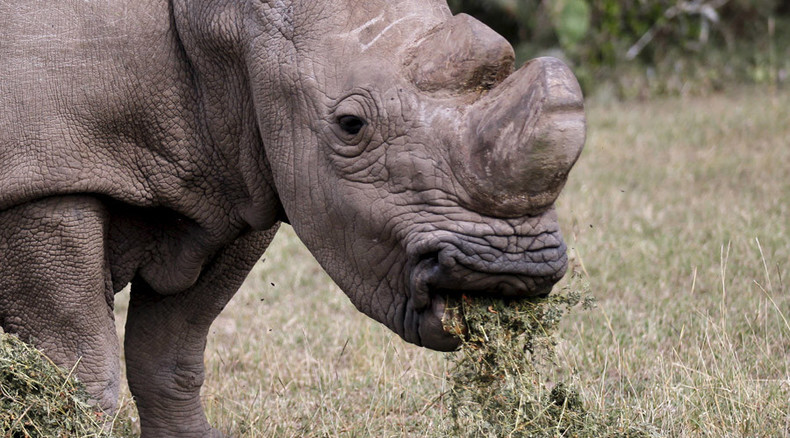 The northern white rhino is one of the world's most endangered species and a crowdfunding initiative wants to save them. Purchasing one of the beasts is not an option, so they want to do the next best thing, raise money to create a "test tube" rhinoceros.
The researchers hope to raise $750,000 to undertake an in-vitro fertilization project. The world's only surviving male northern white rhino is getting on in age and does not have the necessary energy to mount one of the two females he lives with.
The 42-year-old male called Sudan, who despite his name, resides in a national park in Kenya, is kept under constant guard, given that he is the last remaining hope to keep his species alive.
Scientists have taken sperm samples from the male rhinoceros, which are currently being stored inside tanks of liquid nitrogen at a zoo in the Czech Republic, the Sunday Times reports.
"It's a race against time," Richard Vigne, who runs the Ol Pejeta wildlife residency, told the newspaper.
"If it takes too long, you might end with the last female northern white rhino dying," he added.
The matter has become even more pressing as the northern white rhino population dwindled from four to three on Monday, following the death of Nola, a 41-year-old female, who was kept at a zoo in San Diego.
"Nola was an iconic animal, not only at the San Diego Zoo Safari Park, but worldwide," a statement issued by the park said.
However, even if the crowdsourcing project does prove to be successful in raising the necessary funds, one expert says it might still not be enough to save the northern white rhino from extinction.
"Once you get down to four or five animals, you can't even call it a species anymore," said Rob Brett, Africa program director at Fauna & Flora International. "For that, you need a minimum of 20 unrelated animals... It is unrealistic to say you can save the species," he added, according to The Australian.
White rhinos are the biggest in the family and have been heavily poached for their horns. Buyers value them as dagger handles and for their supposed medicinal properties – a superstition disproved by scientists, but persistent in many Asian cultures.