7 dead in helicopter crash on New Zealand glacier – police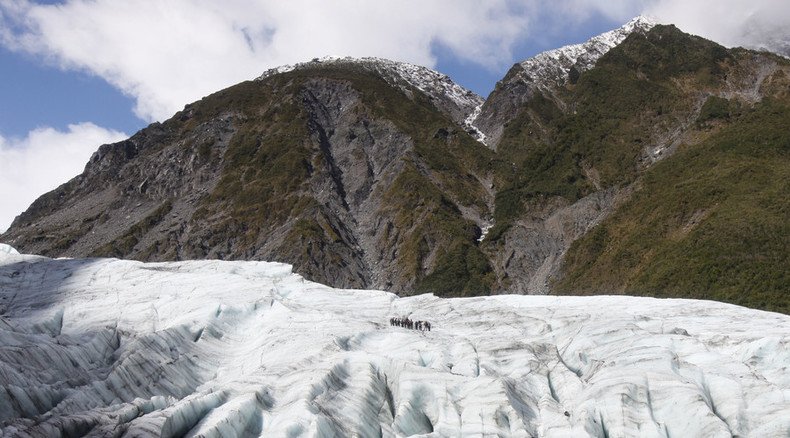 Rescuers found no survivors after a helicopter with seven people on board crashed on Fox Glacier, located on the West Coast of New Zealand's South Island, police have confirmed. Bad weather conditions have not allowed rescue crews to retrieve the bodies.
The helicopter, thought to be a six-passenger Eurocopter "Squirrel," reportedly crashed at about 10 am local time on the upper ice fall area of the glacier. Police said the alarm was raised an hour after.
"Police can confirm that a pilot and six passengers were on board the helicopter and believe no one has survived the crash," a statement said, as cited by local Television New Zealand.
The Rescue Coordination Centre's search mission is ongoing. Four helicopters transporting alpine rescue teams have been sent to the scene.
The wreckage has been located in a crevasse, but rescuers have been unable to reach it due to rugged terrain and poor weather conditions.
"It wouldn't be a good day to be flying helicopters," Grey District Mayor Tony Kokshoorn said, according to the New Zealand Herald. "Everything is against a rescue [mission]. It will be cold up there. And the problem is amplified by the cloud cover".
Commenting on the recovery operation, inspector John Canning said that he was "not going to risk any more lives, we've lost seven."
The wreckage of the helicopter is in a crevasse 2500ft (762m) up the valley, with debris scatted for hundreds of meters around the crash site, Canning said according to stuff.co.nz online news.
The nationalities of those killed - a pilot and six passengers- are not yet known. Officers have been trying to locate the crash victims' next of kin.
The south Westland firm, Alpine Adventures, has confirmed that the crashed helicopter belonged to the company, the New Zealand Herald reported.
The Transport Accident Investigation Commission has launched an investigation. Police have estimated that recovering the wreckage and examining the crash site would take some days.
"We're in the process of deploying a camp of four people who will be arriving early evening," head of communications and support Peter Northcote said.
You can share this story on social media: