Swedish police raid refugee shelter, arrest suspected attack-plotting terrorist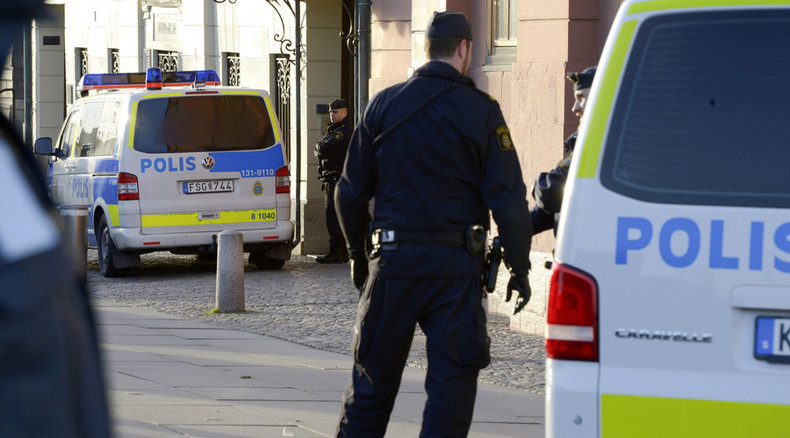 Police in Sweden have arrested a man who is accused of preparing terror attacks on the Swedish capital, a day after Sweden had raised the terror threat level because of the attacks in Paris.
Iraqi national Mutar Muthanna Majid, 22, was detained late Thursday during a police raid on a center for asylum-seekers in the city of Bolinden, in northeastern Sweden. On Friday he was interrogated by Swedish authorities.
"The arrest took place in a calm manner and an interrogation of the person is planned," the Swedish Security Service (Sapo) said in a statement on Thursday as cited by The Local. It later reported that Majid was a member of the Islamic State (IS, formerly ISIS/ISIL) terror group, and suspected of having fought in Syria.
Swedish Defense Minister Peter Hultqvist said the authorities are hunting for more suspects but did not go into further details.
"We are now in a very intense stage of the investigation and we are still very interested in his activities and people he met with since arriving in Sweden," said Mark Vadasz, a spokesperson for Sapo, as reported by AFP.
Majid is said to have arrived in Sweden in September, reported Aftonbladet citing Majid's neighbors. He allegedly left Iraq for Turkey, then crossed the Aegean Sea and traveled through Greece, Bulgaria and Hungary. He sought asylum in Sweden, and lived in a center for asylum-seekers, in an apartment with four men from Iraq, Syria and Eritrea.
One of Majid's neighbors describes him as a glum man.
"I did not have much contact with him, he looked glum and never said hello," he told Aftonbladet.
"I feel terrible, because I escaped from Daesh (another name for IS) in Syria. I really want to thank the police for arresting him," another neighbor said.
The arrest came just a day after Sweden had its raised terror threat level to second highest based on "concrete data" from the National Center for Terrorist Threat Assessment.
Stefan Löfven, Swedish Prime Minister, praised Swedish police for its efficiency.
"I am impressed by the speed with which it has found and arrested the suspect," he said in a statement, quoted by The Local.
You can share this story on social media: