Suspected 'radical Islamist' kills 2 soldiers, injures 3 in Sarajevo, Bosnia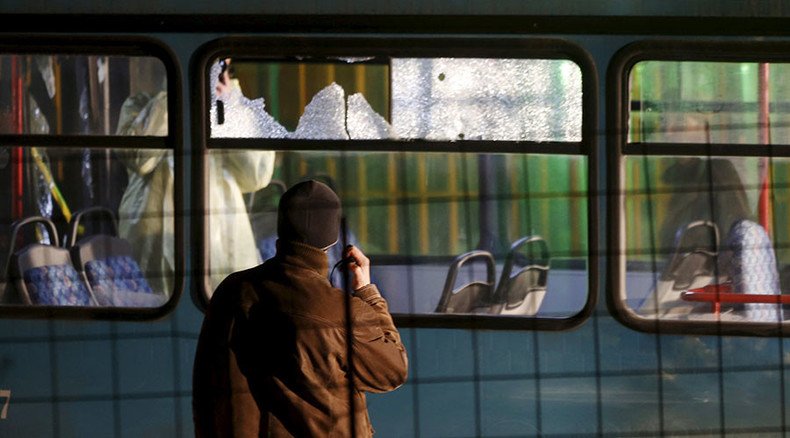 At least two Bosnian soldiers were killed and three civilians injured in an attack by a gunman in Sarajevo. According to unconfirmed reports, the attacker appeared to be a radical Sunni extremist and shouted "Allahu Akbar" before killing the victims.
The attack happened on the outskirts of Sarajevo, the capital of Bosnia and Herzegovina.
"An unknown attacker fired shots from an automatic weapon, killing two servicemen of the Bosnian armed forces," Sarajevo police spokesman Irfan Nefic said.
The attacker also fired at a city bus as he began to flee, injuring the driver and two passengers, according to Nefic.
According to witnesses, the gunman looked like a member of the ultra-conservative Salafi Muslim movement in Bosnia. An unconfirmed report aired by local television N1 claimed that the attacker yelled "Allahu Akbar" ("God is great"), a slogan typical for Islamic militants, before firing.
Police have not confirming those reports, however. "We should wait for the investigation to complete," Regional police directorate chief Dragan Lukac stated.
"We still have no confirmation that this was a terrorist attack, we hope it was not," Perica Stanic, director of the State Investigation and Protection Agency (SIPA), told the journalists.
SIPA has dispatched a team to investigate the incident.
In one of the latest developments, there have been reports that security forces have surrounded a house supposedly belonging to a suspect identified as the shooter in the Sokolje neighborhood.

It is also being reported that the shooter committed suicide after the attack, but this information has not been confirmed by police.
The two soldiers killed were identified as Armin Salkic, 26, and Nedeljko Radic, 34, Bosnia Today reported. Salkic was a Bosniak Muslim and Radic was a Serbian Orthodox. The two were reportedly good friends.
According to a Bosnia Today report, the attacker's name was Enes Omeragic, but police have yet to identify the shooter.
READ MORE: Sweden raises terror threat level to second highest citing 'concrete information'
You can share this story on social media: