ISIS says Russia targeted over Syria campaign, shows alleged Sinai jet 'bomb'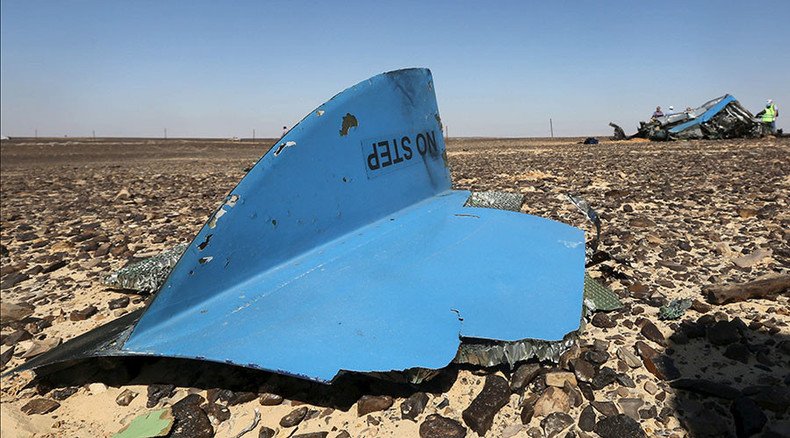 An image of alleged parts of a "bomb" used to take down a Russian passenger plane over Egypt's Sinai, killing all 224 people onboard, was posted by Islamic State's magazine.
A soft drink can and what appeared to be a detonator and switch allegedly made up the parts of an improvised homemade bomb, a photo published online on Wednesday by Dabiq magazine suggests.
Another photograph showed passports said to belong to Russian passengers killed in the bombing, with the documents allegedly obtained by Islamic fighters.
The authenticity of the images has not been verified.
On Tuesday, the Russian Federal Security Service (FSB) announced that a terrorist attack caused the A321 plane en route to St. Petersburg to crash in Sinai. Traces of explosives have been found in the wreckage, which included passengers' belongings and parts of the plane.
"During the flight, a homemade device with the power of 1.5 kilograms of TNT was detonated," FSB chief Aleksandr Bortnikov said, adding that "traces of a foreign-made explosive substance" have been found.
The publication said that militants had found a way to compromise airport security at Sharm el-Sheikh and smuggled a bomb onto the Russian jet. It was first planned to target an aircraft belonging to one of the nations from the US-led Western coalition fighting Islamic State in the region, the magazine claimed, adding that it was later decided to attack Russia over its military campaign in Syria.
There have been reports that a number of Sharm el-Sheikh Airport employees were held and detained on suspicion of assisting those who planted the explosive device on the Russian plane. Egyptian authorities and airport officials promptly denied the reports on Tuesday.
International passengers were banned from bringing large amounts of liquids on board commercial airplanes after terrorist plans to use liquid explosives disguised as soft drinks on transatlantic flights were uncovered in Britain in 2006.
In the days following the tragedy over Sinai, British media reported unconfirmed information suggesting that British jihadists might have been involved in the bombing of the Russian plane. UK intelligence has allegedly heard "chatter" from extremists in the area, which reportedly featured the jihadists involved in the attack speaking with London and Birmingham accents. The unconfirmed reports suggested that those Britons had been trained with an "electronics background" which might have helped to construct the bomb.
You can share this story on social media: