Man in Joker mask threatens to kill '1 Arab a week' in Canada, gets arrested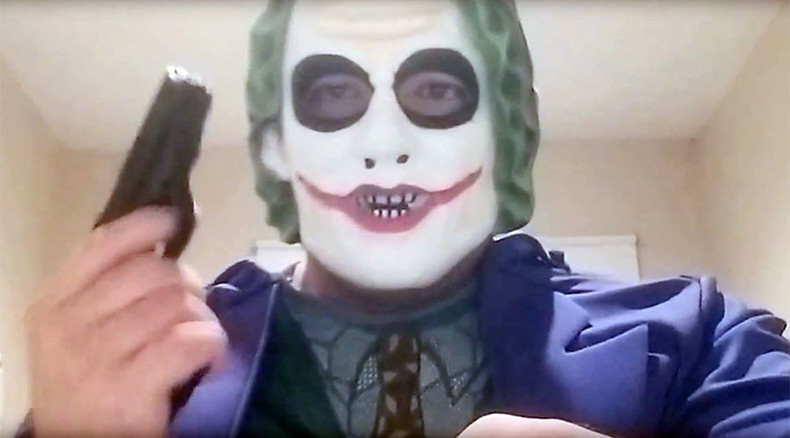 A man wearing a mask of Batman's arch enemy the Joker was arrested in Montreal, Canada, after threatening to kill one Muslim every week in an online video. Canada has seen an escalation of anti-Muslim sentiment in the wake of the Paris terrorist attacks.
Const. André Leclerc said the man, who was arrested in the borough of Montreal North on Tuesday night, is in custody and meeting with investigators, CBC News reported.
It is not yet clear what charges may be brought against him.
The video was posted Tuesday on YouTube, but has since been taken down. In it a man speaking in a Quebecois-sounding accent said that starting next week he would kill an Arab or a Muslim each week all across the province.
He was brandishing what appeared to be a handgun and said he had like-minded people on board who would help him to carry out the threat, reported the National Post.
"If you make threats on social networks or on the web, there are very concrete consequences in the real world, the criminal code allows us to press charges against people who do things like this," Montreal police (SPVM) spokesperson Laurent Gingras told Vice News.
Anti-Muslim sentiment was invigorated in Canada in the wake of the Paris terrorist attack. The violence in France is cited by critics of the new government of Prime Minister Justin Trudeau as a reason not to allow a forecast 25,000 refugees from Syria to enter the country.
Earlier over the weekend a mosque in Peterborough in Ontario province was set ablaze and on Monday a Muslim woman was attacked in Toronto as she was picking her son from an elementary school.