'War on civilized world': Medvedev urges powers to unite after Russian plane bombing, Paris attacks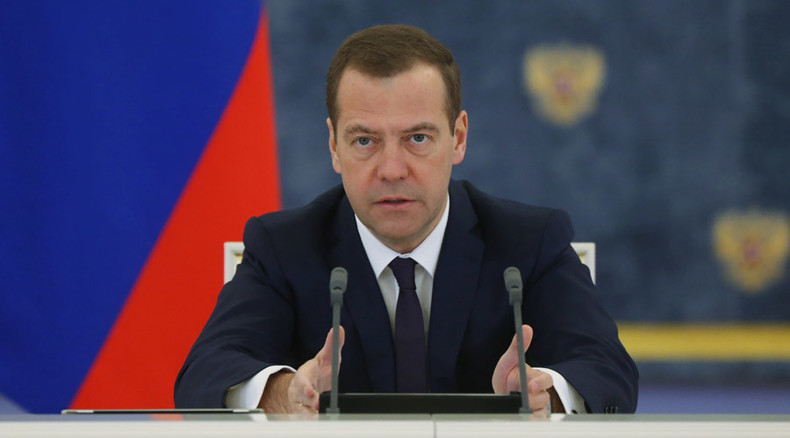 Russia's Prime Minister Dmitry Medvedev called on both the West and East to unite against terrorism, saying it has declared war on the civilized world. Medvedev lashed out at the West's short-sighted efforts to isolate Russia in light of this "global and real" threat.
"My deep conviction is that we must unite in this struggle," Medvedev told journalists on arriving in Manila, the capital of the Philippines, for the annual Asia Pacific Economic Cooperation (APEC).
The prime minister stressed that recent acts of terror, including the bombing of a Russian passenger plane in Sinai, Egypt killing 224 passengers, and the Paris attacks which saw at least 132 people slaughtered, indicate a "global and, sadly, absolutely real" threat.
The Russian PM noted that states could target terrorism individually, but at a much greater cost than if the world powers came together.

"[Russia] will continue to fight against terrorism alone and we will win this battle. The West can probably withstand it [terrorism] as well. The only question that remains is at what price?"
"The attack on our plane as well as the terrorist attack in Paris caused massive human loss," he said. "These events have brought new urgency to the global political agenda. War has been declared against the whole civilized world."
Medvedev also slammed the West for having short-sighted policies with respect to fighting terrorism, particularly when it comes to its relations with Russia, in light of this growing global threat.
"This [terrorism threat] makes the position of several Western nations towards Russia even more peculiar. It is a short-sighted and harmful position for world, which is directed against their own people."
APEC begins on Wednesday, with Medvedev scheduled to give a speech on the development of Russian trade and investment cooperation.
Manila is the first stop on the prime minister's eight-day tour. Medvedev will also be visiting Malaysia and Cambodia before traveling back to Russia and arriving in Yekaterinburg, the unofficial capital of Russia's Ural region.